November 15, 2016 – April 7, 2017
Simons Center Gallery
Curated by Lorraine Walsh
Closing Reception: Friday, April 7, 2017
4:30 pm: Wine and Cheese Reception, Simons Center Gallery and Lobby
5:00 pm: Artist Talk: The Oakes Twins: Capturing Visual Consciousness, Ryan and Trevor Oakes, Della Pietra Family Auditorium, Room 103 of the Simons Center for Geometry and Physics
The Simons Center Art Program is pleased to host Ryan and Trevor Oakes as Artists in Residence. The artists will be working in the Simons Center Gallery April 3rd through April 6th creating portraits using their unique method of concave drawing.
Born in Colorado in 1982, the twin brothers Ryan and Trevor Oakes are engaged in a conversation about the nuances of vision since they were children. They explored their mutual fascination with sight and perspective throughout grade school and during college at Cooper Union's School of Art in New York City. Since graduation in 2004, they have continued their dialogue through work that explores the logic of art, the beauty of mathematics, and the spaces where these two fields become inextricably entwined. The Oakes' artwork addresses human vision, light, and the mysteries of perception in the manner in which they have come to understand it.
The Oakes brothers will present in their talk, The Oakes Twins: Capturing Visual Consciousness, an account of how they arrived at a new drawing method based on close observation of the way one's two eyes work in tandem. Their lecture will illuminate fundamental perceptual truths regarding the spherical nature of human vision, re-examine western perspective's canonized flat rectangular picture plane, and share the artistic thought process as expressed in their spherical drawings and paintings.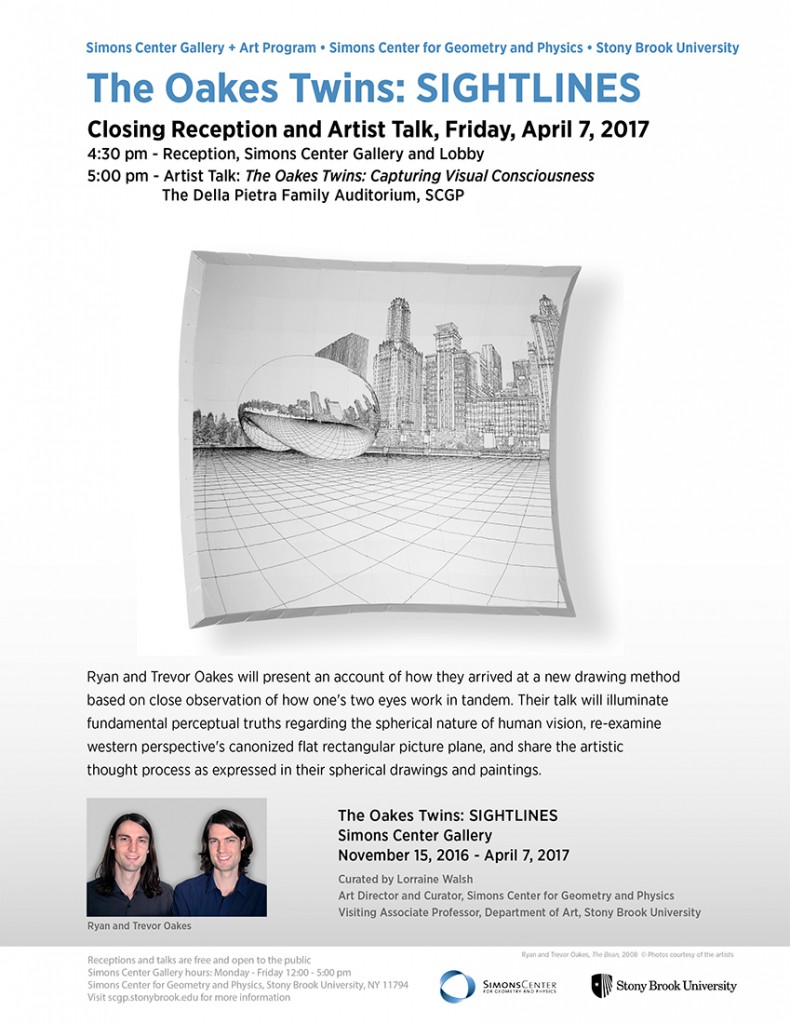 Visitor Information
Hours: Simons Center Gallery hours: Monday- Friday 12:00 – 5:00 pm and by appointment; Closed Saturday, Sunday, and Holidays.
Directions to Simons Center for Geometry and Physics: https://scgp.stonybrook.edu/about/directions
For more information visit https://scgp.stonybrook.edu or call 631-632-2800.
Press contact: Lorraine Walsh lwalsh@scgp.stonybrook.edu