Summer 2018 Tuesday Concerts
The Art and Science Program at the Simons Center for Geometry and Physics at Stony Brook University is pleased to present a new music series free and open to the public:
Tuesday, July 17, 2018
Three Village Chamber Players
5:00 – 5:30 pm: Reception in the Simons Center Lobby and Gallery
5:30 – 6:30 pm: Concert in the Simons Center Auditorium
Tuesday July 24, 2018
Parzival and Fierefiz: An Exploration of a Synthesis of Polarities
Emmanuel Vukovich – Violin and John McDowell – African Drum
Works by Bach, Bartok, McDowell, and Vukovich
5:00 – 5:30 pm: Reception in the Simons Center Lobby and Gallery
5:30 – 6:30 pm: Concert in the Simons Center Auditorium
Program to Include:
Parzival and Fierefiz – an original composition by John McDowell and Emmanuel Vukovich for solo violin and West African Drum
Presentation of West African music: drumming, polyrhythm, and synthesizing this music in an original composition
Presentation of Mathematical principles in the music of Bach, Bartok, McDowell
Bartok's solo violin Sonata and Bach's Chaconne
Tuesday, August 7, 2018
Peter Watrous Trio, Jazz Ensemble
5:00 – 5:30 pm: Reception in the Simons Center Lobby and Gallery
5:30 – 6:30 pm: Concert in the Simons Center AuditoriumProgram featuring music by jazz composers Lil Hardin Armstrong, Carla Bley, Paul Motian, Wayne Shorter, Thelonious Monk, Charlie Parker and others, along with standards from the Great American Songbook and some originals.
---
The Three Village Chamber Players features Lucia Kobza on violin, Natalie Kress on violin, Philip Carter on viola and Alison Rowe on cello.
The mission of Three Village Chamber Players is to enrich our community through artistic excellence, providing free musical performances of the highest caliber to the public. With innovative programming, educational outreach, and live performance in both traditional and alternative venues, we strive to enhance the cultural vibrancy of our beautiful community. The Three Village Chamber Players craft performances to be personal, interactive, and relevant. We perform a wide range of music, from historically informed masterworks to commissioned works from living, local composers.
---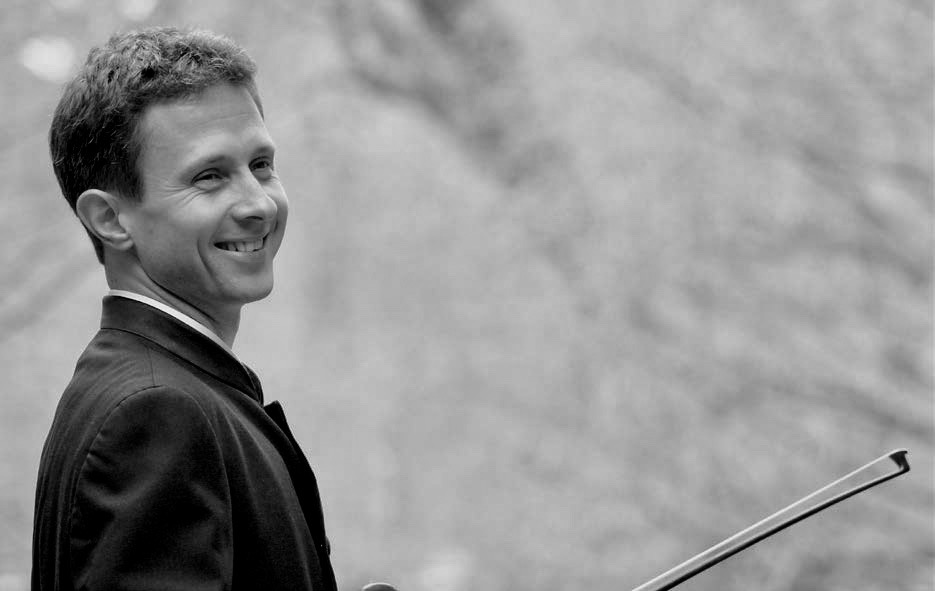 Emanuel Vukovich is critically acclaimed for his "attention to every detail of phrasing" Canadian violinist Emmanuel Vukovich is emerging as an artist of musical integrity and maturity. Grand-prize winner of the Fischoff National Chamber Music Competition as first violinist the Lloyd Carr-Harris String Quartet, Emmanuel is the current recipient of the 1700 'Bell' Giovanni Tononi violin on generous loan from The Canada Council for the Arts Musical Instrument Bank. He is founder and artistic director of The Parcival Project, an international chamber music collective that has toured Canada and South America and artist in residence at Montreal's Chapelle Historique du Bon Pasteur "Bach Odyssey" – a multiyear series centered around the solo violin Sonatas and Partitas of J S Bach.
Recently completing his Master of Music and Graduate Diploma degrees at New England Conservatory of Music with Donald Weilerstein, Lucy Chapman, and Soovin Kim, Emmanuel is currently a candidate for the Doctor of Music degree at Stony Brook University working with the Emerson String Quartet and focusing his thesis on collaborative leadership in performance. This interest in leadership has led him to work with Otto Scharmer and the Presencing Institute at MIT in Boston. Emmanuel's final lecture recital will present the world premiere performance of an original composition on the story of Parzival & Fierefiz for solo violin, string quartet, and West African drum ensemble co-written with New York composer John McDowell. His final recital in 2018-19 will present the complete solo violin Sonatas and Partitas of Johann Sebastian Bach.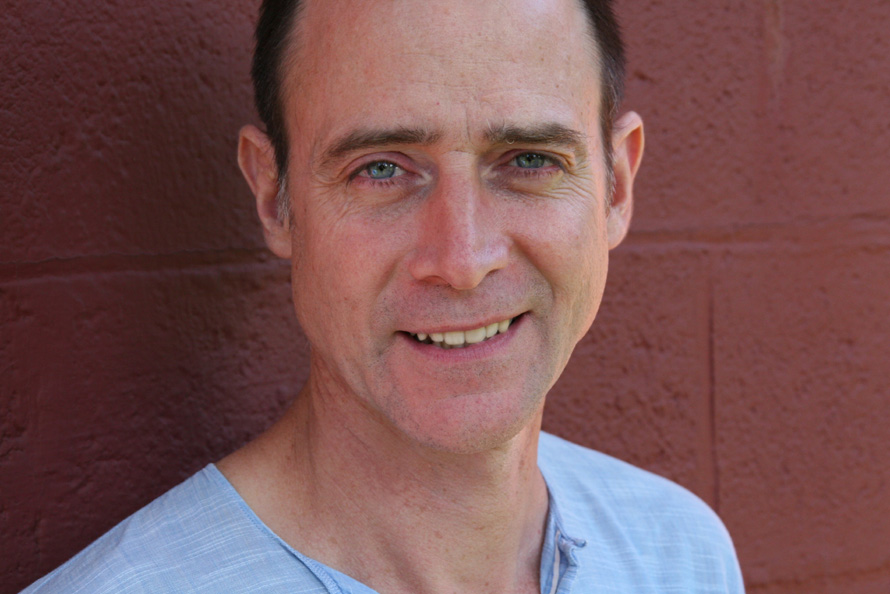 John McDowell
is a highly gifted pianist, percussionist, producer, commissioned composer and conductor. His work over the past 25 years draws on classical, jazz, pop, and world music. He achieved worldwide recognition with his soundtrack to the Academy Award winning documentary Born Into Brothels which was winner of Best Musical Score at the Bend Film Festival. Subsequent film scores by McDowell include Who Does She Think She Is?, Orgasmic Birth, Stolen, Sold, produced by Emma Thompson, Ganga (Holy Unholy River), and Salam- the definitive story of Abdus Salam, the first Pakistani scientist to win the Nobel prize.
Known for much more than just his film scores, McDowell served as founder, artistic director and leader of several musical projects including The Born Into Brothels Ensemble and the world music band Mamma Tongue. He has toured and recorded with Rusted Root and Krishna Das and has produced several albums including his solo CD Speaking the Mamma Tongue. McDowell's formal education and subsequent informal global training has made him a largely self-taught ethnomusicologist of widely-ranging scale.
After receiving music composition degrees from DePaul and Northwestern Universities, McDowell lived in Europe and Africa. His research took him to Senegal, Gambia, India, and to work with Native American drummers and singers from the Tuscarora and Oglala tribes. In Europe, his dance scores have been featured at the Brussels Dance Festival, the Holland Festival, and the Berlin-Amsterdam Festival. His compositions range from solo flute music to dance scores, a requiem, and works for a world music ensemble and orchestra. He has performed at major venues and festivals including the Montreal Jazz Festival, Woodstock-99, Lincoln Center Out-of-Doors, and the United Nations and throughout Europe. He is also a biodynamic farmer and has recently performed and toured in the U.S. and Canada as half of the piano/violin duo project Music for Farms with Canadian violinist, composer, and fellow farmer Emmanuel Vukovich.
---
Peter Watrous learned how to play as a dissolute youth in New Orleans in the 1970s, and have played with Archie Shepp, Marion Brown, Jimmy Owens, Donnie McCaslin, Jacob Sacks, Adam Kolker and more. For nearly 15 years I worked as the Chief Jazz Critic at the New York Times, and after leaving the paper dedicated myself to playing music again. David Ambrosio and Allan Mednard and I have played together for years and David and Allan are some of the most in-demand jazz musicians in New York.
---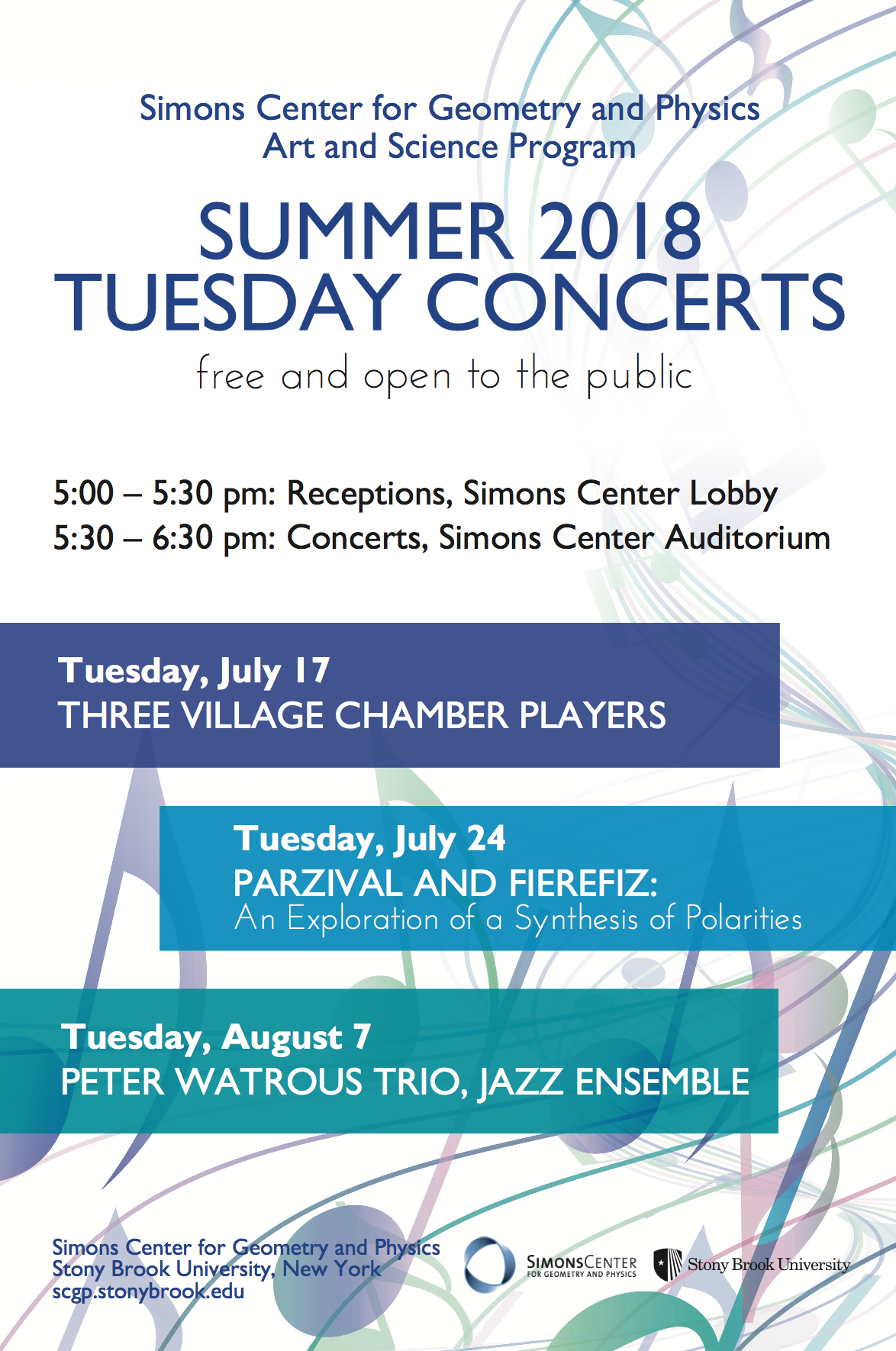 Visitor Information

Directions to Simons Center for Geometry and Physics: https://scgp.stonybrook.edu/about/directions
For more information visit https://scgp.stonybrook.edu/art
or call 631-632-2800.