Matter Design Computation: Projects 2012-2018
An exhibition of drawings and artifacts by Jenny E. Sabin, Jenny Sabin Studio
Simons Center Gallery, Stony Brook, NY
October 1, 2018 – February 8, 2019
Curated by Lorraine Walsh
Art Director and Curator, Simons Center for Geometry and Physics
Visiting Associate Professor, Department of Art, Stony Brook University
Opening Reception Thursday, October 4, 2018
Reception: 5:00 – 5:30 pm, Simons Center Gallery and Lobby
Guest Speaker: 5:30 pm, Artist talk by Jenny Sabin, Matter Design Computation: Biosynthesis and New Paradigms of Making
Della Pietra Family Auditorium, SCGP 103
The Simons Center Gallery is pleased to announce the opening of Matter Design Computation: Projects 2012-2018: An exhibition of drawings and artifacts by Jenny E. Sabin, Jenny Sabin Studio.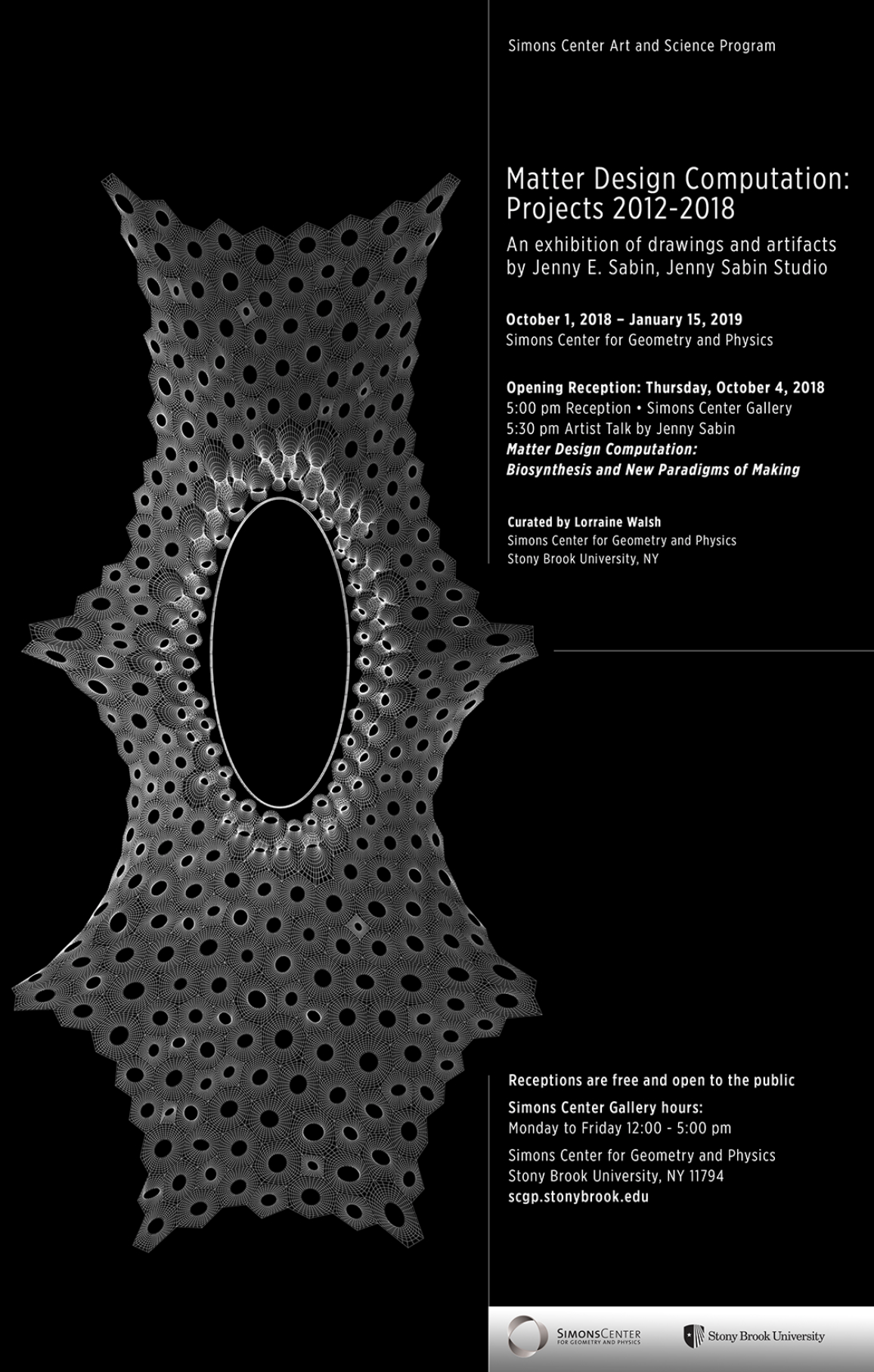 Matter Design Computation showcases 8 new drawings by Jenny E. Sabin of projects spanning 2012 – 2018. The drawings, along with 3D prints and a section of Lumen for The Museum of Modern Art and MoMA PS1's Young Architects Program 2017 by Jenny Sabin Studio, will be on view at the Simons Center Gallery at the Simons Center for Geometry and Physics, Stony Brook University. Featured projects commence with the myThread Pavilion for Nike FlyKnit Collective, 2012 and span 6 years of technological innovation and material experimentation across disciplines. The work probes the visualization and simulation of complex spatial datasets alongside issues of craft, fabrication and production in a diverse array of material systems (woven, knitted, and braided textiles, Rapid Prototype and 3D printed ceramics, bio-plastics and hydrogels, water-jet cut metals). This interest probes the productive tinkering and misuse of digital fabrication machines informed by issues of craft and making to produce bio-inspired material systems and software design tools that have the capacity to facilitate embedded expressions in our built environment.
The drawings and artifacts express knitted light, immersing visitors in a responsive glow of photo-luminescence. The section of Lumen, a lightweight knitted canopy structure of responsive tubular and cellular components employs textiles, photo-luminescent, and solar active fibers that absorb, collect, and deliver light within the Simons Center Gallery. The projects are socially and environmentally responsive structures that are interactive and transformative. These environments offer spaces of respite, exchange, and engagement as the materials filter light, cast dynamic shadows, and change throughout the day. They are open responsive systems featuring digitally knitted and ceramic assemblies that are lightweight, high-performing and formfitting. The body of work on view showcases experiments that take risks through collaboration across disciplines to innovate architecture that is transformative, interactive and socially engaging.
Jenny E. Sabin is an architectural designer whose work is at the forefront of a new direction for 21st century architectural practice — one that investigates the intersections of architecture and science while applying insights and theories from biology and mathematics to the design of material structures. Sabin is the Arthur L. and Isabel B. Wiesenberger Professor in Architecture and Director of Graduate Studies in the Department of Architecture at Cornell University where she established a new advanced research degree in Matter Design Computation. She is principal of Jenny Sabin Studio, an experimental architectural design studio based in Ithaca and Director of the Sabin Lab at Cornell AAP. Sabin holds degrees in ceramics and interdisciplinary visual art from the University of Washington and a master of architecture from the University of Pennsylvania. She was awarded a Pew Fellowship in the Arts 2010 and was named a USA Knight Fellow in Architecture. In 2014, she was awarded the prestigious Architectural League Prize. Her work has been exhibited internationally including at the FRAC Centre, Cooper Hewitt Design Triennial, and most recently as part of Imprimer Le Monde at the Pompidou. Her book LabStudio: Design Research Between Architecture and Biology co-authored with Peter Lloyd Jones was published in 2017. Last year, Sabin won MoMA & MoMA PS1's Young Architects Program with her submission, Lumen.
Visitor Information
Simons Center Gallery hours: Monday- Friday 12:00 – 5:00 pm, and by appointment.
Directions to Simons Center for Geometry and Physics: https://scgp.stonybrook.edu/about/directions
For more information visit https://scgp.stonybrook.edu or call 631-632-2800.
The Simons Center Gallery's goals include hosting the highest quality and most intellectually inquisitive art by internationally acclaimed artists working at the intersection of art, science, and technology. The exhibitions and events at the Simons Center for Geometry and Physics at Stony Brook University feature artistic and scientific concepts accessible through a broad range of media for meaningful experiences that ignite imagination and inspire ideas.