Simons Center Gallery, Simons Center for Geometry and Physics, Stony Brook University, NY
March 26 – August 7, 2020
Opening Reception Postponed – TBA
Guest Speaker: Artist talk by Ander Mikalson, Score for the Big Bang: The Universe as Voice
Della Pietra Family Auditorium, SCGP 103
Curated by Jillian McDonald
Curator, Pace Digital Gallery Projects
Professor, Art Department, Pace University, New York, NY
The Simons Center Gallery is pleased to announce the opening of Ander Mikalson and Katie Paterson: Artworks to Sonify and Colorize the Universe.
Two major works are on view, one by each artist; both the results of rigorous research and collaborations beyond the field of visual art. Inspired by the cosmos, the works represent scientific data though the use of sound and colour. The minimal execution of the artworks belies their sophisticated conceptual beginnings, and each work includes an accompanying diagram. Mikalson and Patterson are two artists of the same generation, born in the early 1980s, who have sought to translate scientific concepts into magnificent productions that are at once beautiful, skillfully crafted, and rich with poetic and philosophical significance. It is often in first thinking about the cosmos that humans encounter existential feelings of insignificance – our planet and the universe are, after all, indifferent to our activity, aspirations, and longings. Their art speaks to the enormous luck of circumstances that allows us to contemplate the distant past and future, and also the looming present knowledge we may soon be reabsorbed by the world that
contains us. They also turn our attention to the fragility of a de-romanticized cosmos as human awe falls away and we move ever closer to mapping, colonizing, and commercializing all of outer space, spilling detritus and ambitions far beyond our Earthly border.
Ander Mikalson is an American artist whose performative works have led her to collaborate with audiences, scientists, dancers, composers, musicians, poets, children, mothers, writers, and so many more. She describes her role as orchestrator, instigator and conductor. Mikalson has orchestrated a marching brass quintet playing love songs to the artworks on the Highline in New York; conducted live audiences creating a foley score for the twister scene in The Wizard of Oz, using toy instruments and other fanciful objects; and performed collaborative ordinary and poetic acts daily at the edge of a seven-foot circular Black Hole cut in a gallery floor and filled with black ink. Her works have been exhibited at the Queens Museum and Art in General in New York, 1708 Gallery in Virginia, and Tensta Konsthall in Stockholm. Residencies include The Banff Centre for the Arts in Canada, The Robert Rauschenberg Foundation in Florida, The Lower Manhattan Cultural Council in New York, and Wavehill Public Garden in The
Bronx.
Katie Paterson is a Scottish artist who collaborates with scientific researchers in geology, ecology, and astronomy; and conducts her research and artmaking with steadfast attention to detail. She created a light bulb to simulate the experience of moonlight; sent an artificial meteorite, cast from a real meteorite, back into space; planted a forest which will be the source of a library for international commissioned authors – for example, Margaret Atwood – in the distant future; produced a book containing artworks to exist in the imagination, whose cover is permeated with asteroid, Mars, and moon dust; mapped all the dead stars; and compiled a slide archive of darkness from the depths of the universe. She exhibits her work internationally, including major exhibitions at The Tate Britain, Kunsthalle Wien, The Guggenheim Museum in New York, and The Scottish National Gallery of Modern Art in Edinburgh. She is an Honorary Fellow of Edinburgh University and is represented in New York by James Cohan Gallery.
Jillian McDonald is a Canadian artist, professor and curator living in Brooklyn. She exhibits her video, performance, and drawings widely, participates in numerous artist residencies, is a Professor of Art at Pace University in New York City, co-founded the new media art space Pace Digital Gallery in 2003, and curates exhibitions at Pace University and beyond.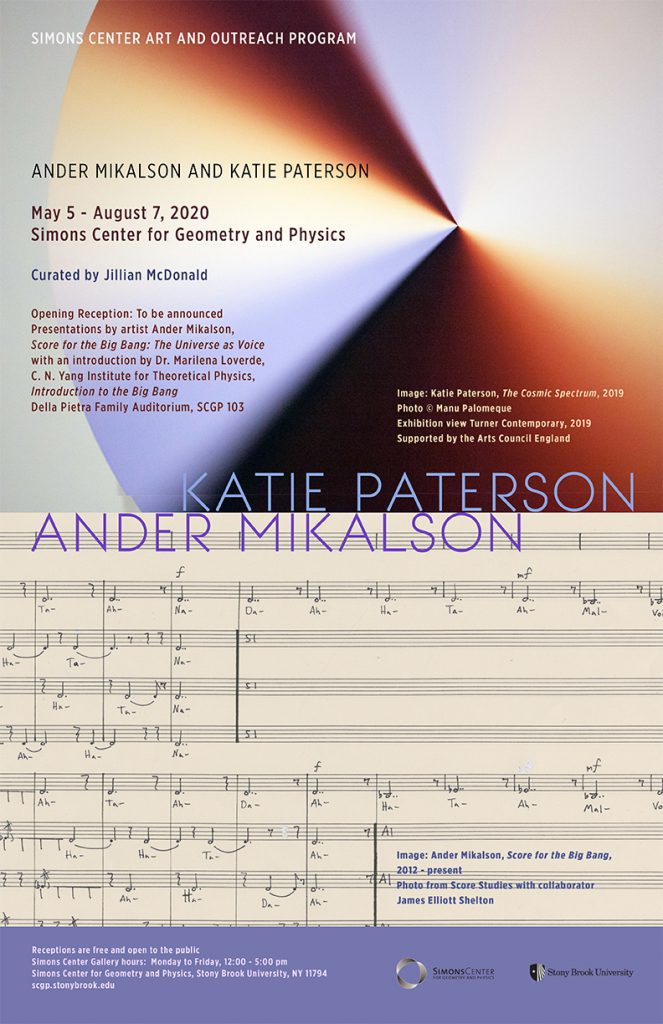 Katie Paterson, The Cosmic Spectrum, 2019 Photo © Manu Palomeque Exhibition view Turner Contemporary, 2019 Supported by the Arts Council England

Anders Mikalson Score for the Big Bang Photo © Departure Point Films
Visitor Information
Simons Center Gallery hours: Monday- Friday 12:00 – 5:00 pm, and by appointment.
Directions to Simons Center for Geometry and Physics: https://scgp.stonybrook.edu/about/directions
For more information visit https://scgp.stonybrook.edu or call 631-632-2800.
~
The Simons Center Art and Outreach Program hosts the highest quality and most intellectually inquisitive art by internationally
acclaimed artists working at the intersection of art, science, and technology. The exhibitions and events at the Simons Center for
Geometry and Physics at Stony Brook University feature artistic and scientific concepts accessible through a broad range of media
for meaningful experiences that ignite imagination and inspire ideas.