General Lecture
This lecture is by invitation only and will be available online for general public viewing. To watch the live stream please visit: scgp.stonybrook.edu/live

Date: Tuesday, September 21 at 5:00pm ET
Lecture Title: "Music and the Making of Modern Science"
Abstract:
In the natural science of ancient Greece, music formed the meeting place between numbers and perception. For the next two millennia, "liberal education" connected music with arithmetic, geometry, and astronomy within a fourfold study, the quadrivium. Music has had a formative effect on the development of modern science; not just a charming accompaniment to thought, music is a conceptual force in its own right. This lecture explores a series of episodes in which prior developments in music arguably affected subsequent aspects of natural science: new directions in Renaissance music leading to the modern concept of number; Johannes Kepler's search for cosmic laws through musical proportions; Max Planck's musical experiments and the origins of the quantum theory. Taken together, these cases document the peculiar power of music—its autonomous force as a stream of experience, capable of stimulating insights different from those mediated by the verbal and the visual.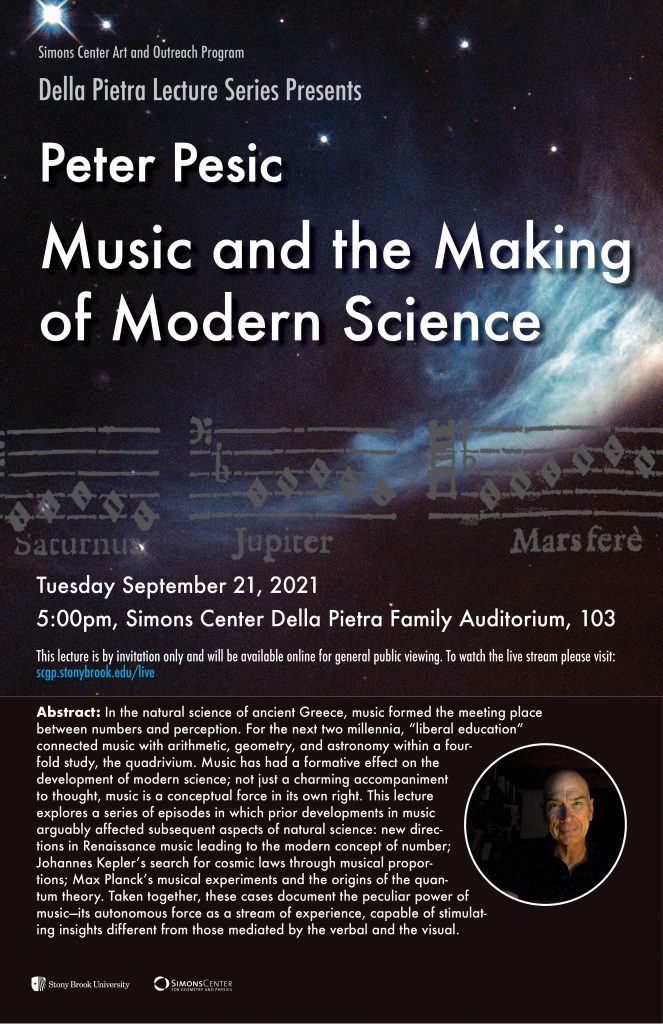 Concert Performance
This event is by invitation only and will be available online for general public viewing. To watch the live stream please visit: scgp.stonybrook.edu/live
Date: Wednesday, September 22 at 5:00pm ET
PROGRAM: Music and Science: Birds, Stars, and Research
Peter Pesic, piano
Olivier Messiaen, "L'alouette lulu" (The Woodlark)(1956–8)
John Cage, Etudes Australes VIII(1975)
Girolamo Frescobaldi, Recercar Cromaticho (1635)
György Ligeti, Musica ricercata (1951–3)
J. S. Bach, Ricercar à 6 from Musical Offering (BWV 1079, 1747)
This program explores the relation between music and science beginning with Olivier Messiaen's evocation of two birds singing at midnight and John Cage's rendition of stars in the Southern Hemisphere. Music used the term "research" long before it figured in scientific discourse. Girolamo Frescobaldi's Recercar Cromaticho (1635) contains seminal keyboard research (ricercar) into chromatic music. György Ligeti's breakthrough Musica ricercata (1953) explores the musical resources successively of all twelve chromatic tones. J. S. Bach's six-part Ricercar presents his consummate research into the art and science of counterpoint.
Technical Talk for Faculty and Advanced Graduate Students
This lecture is by invitation only and will be available online for general public viewing. To watch the live stream please visit: scgp.stonybrook.edu/live
Date: Wednesday, September 22 at 11:00am ET
Title: TBA
Abstract: TBA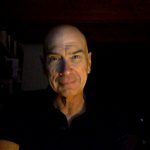 Peter Pesic is a writer, pianist, and educator. He is director of the Science Institute at St. John's College in Santa Fe, New Mexico, where he is also Musician-in-Residence and Tutor Emeritus. His six books, seven editions, and sixty papers consider questions in the history and philosophy of science, music, and ideas. His book reviews have appeared in the Wall Street Journal and Times Literary Supplement.
Born in San Francisco of Serbian parents, he was educated at Harvard and Stanford, where he received a doctorate in physics and subsequently taught in its program on Structured Liberal Education. At Stanford, he studied piano with Naomi Sparrow and performed with the new music ensemble Alea 2; he then attended the Aspen Music School.
In the course of three hundred concerts he has surveyed the music of Schubert, Bach, Chopin, Haydn, Beethoven, Ravel, and Schoenberg; he has given premieres of works by Nicolas Roussakis, David Lang, and Lawrence Cave. He has given concerts with sopranos Danielle DeNiese and Helen Vanni, cellists Yehuda Hanani, Wayne Foster Smith, and Antonio Lysy, and pianist Vitya Vronsky.
On the faculty of St. John's College in Santa Fe since 1980, he has been deeply involved in its unified curriculum based on close study and discussion of great works, especially in shaping its unique program of study in laboratory science, mathematics, and music.
Besides the Science Institute (which offers week-long intensive seminars on important texts in science and mathematics for teachers and other interested participants), he is an Associate of the Department of Physics at Harvard University.