Simons Center for Geometry and Physics
Thursday, April 25, 2013
Wine and Cheese Reception starting at 5:30 pm
Closing reception: FAX + Pattern exhibition and 3D printing
Reflections on traveling FAX exhibition
Simons Center 3D design contest winners for high school students on display in the Simons Center Gallery
Talk by William Duffy :  3D computational graphics
William F. Duffy is a professional sculptor ,he has been a consultant for the CAD/CAM industry and also has taught 3D computational graphics at the college level.  His work investigates 3D computational graphics to define and represent the underlying forms in nature, some of his more recent works include a few highly complex structures, including mathematical models.
William Duffy's 3D printed sculptures & FAX works are currently on display at Simons Center Gallery. Read more about William Duffy 
here.
Artist in Residence Phil Webster will be demonstrating 3D printing at the SCGP Gallery, Monday – Friday 11:30 am- 1:30 pm.
SIGN UP for 3D Printing Workshop Demonstrations
About the Exhibit: FAX + Pattern

FAX invites a multigenerational group of artists, architects, designers, scientists, filmmakers and writers to reconceive of the fax machine as a thinking and drawing tool. Participants transmit their fax-based work via the venues' working fax lines through the duration of the exhibition's tour. Faxes by nearly 100 participants sent to the initial showing of FAX at The Drawing Center form the core of the exhibition, with each institution inviting additional participants to submit works, which will then be archived with The Drawing Center's collection to create an evolving document of all participants. The accumulation of information-received in real time, in the exhibition space-includes drawings and texts, and the inevitable junk faxes and errors of transmission, creating an ongoing cumulative project.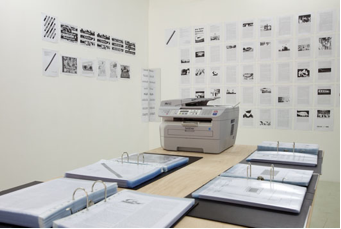 The Simons Center Gallery developed FAX project further by inviting 20 artists, with a math/physics background, to contribute to FAX with a curatorial theme:  FAX + Pattern.

Artists:  Tatiana Bonch, Jay Bonner, Toby Buonagurio, Anne Burns, Mariam Carothers, Erik Demaine, Martin Demaine, Stephanie Dinkins, Nina Douglas, Scott Draves, William Duffy, Christine Edison, Robert Fathauer, Helaman Ferguson, Chuck Hoberman, Craig Kaplan, Amy Selikoff, Nathan Selikoff, Carlos Sequin, Briony Thomas, Christian White

3D printers- Today's fax machine

3D printer technology works on the same principle as the fax machine allowing for making copies of an object without physically transporting the original.  Following artists are exploring both communication tools by having their patterns faxed as well as 3D printed simultaneously in real time in the SCGP Gallery during the March-April exhibition.

Artists:  William Duffy, Nina Douglas, and Phil Webster.

About the Artist in Residence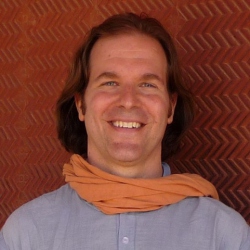 Phil Webster is a self-taught artist exploring the intersections of mathematical patterns and shapes, natural forms, ancient design traditions, and sacred geometry.  A long-time student of polyhedral symmetries, tessellations, and fractals, he is currently blending these forms with existing traditions such as Islamic geometric art to create modern takes on ancient designs.  Phil creates his art in several media using a variety of techniques, including laser cutting wood, paper, and acrylic; 3D printing in plastic and metal; and color prints on paper, canvas, and metal.

Phil was born in Rochester, NY. His studies have been in the fields of geometry, cognitive science, music, cartography, and computer science. The common threads running through these fields inform his art and design today, including the appreciation of technological tools, aesthetics and design skills, and mathematical and programming skills.  Phil studied math at MIT before opting to complete his BS there in Brain and Cognitive Science. He also studied cognitive science at the graduate level at the University of Michigan and jazz composition and voice at Berkley College of Music.  He currently resides in the Berkshires of Massachusetts with his wife and cat.

Artist -in -Residence Phil Webster Fractal Islamic Pattern designs on view during the March- April exhibition.
 
Tuesday, April 9, 2013 – 6-7 pm:Islamic patterns 3D printing demonstrations, – 7 pm : Moroccan Tasting Dinner at the SCGP Café with live music by Zafer Tawil and George Ziadeh.
About the Musicians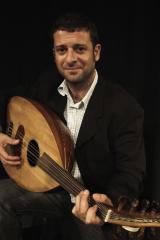 George Ziadeh was born and raised in Birzeit, Palestine, and pursued music from a young age. In 1986 he moved to the United States, where he studied 'oud with Simon Shaheen and classical singing and voice with Youssef Kassab, with whom he has toured extensively across the country. George has performed and lectured with such ensembles and institutions as the University of Chicago's Middle East Music Ensemble with Issa Boulos, the University of Colorado (Boulder), Alwan for the Arts, the United Nations (invited by Kofi Annan), and annually at the Columbia University Department of Ethnomusicology. In 2008, George was a featured solo and ensemble performer in the "Brooklyn Maqam" Festival of Arab Music. From 1995 to 1997 George taught at the Edward Said National Conservatory of Music in Ramallah and at Birzeit University. George is considered an authority in maqam and Arab classical repertoire. http://www.alwanforthearts.org/event/471

Zafer Tawilis a virtuoso on 'oud, violin, and qanun, and a master of Arab percussion. Zafer has performed in concerts across the country, including performances with numerous musicians ranging from Sting to Arab music virtuosos Chab Mami, Simon Shaheen, Bassam Saba and George Ziadeh, to avant-garde composer/ performer Elliot Sharpe. He was a featured composer and performer in acclaimed director Jonathan Demme's Oscar-nominated film Rachel Getting Married and is composing and performing for Demme's next film project, Zeitoun, based on Dave Eggers' book about Abdulrahman Zeitoun's post-Hurricane Katrina odyssey. Zafer has worked on many collaboration concerts involving classical Indian and Persian music as well as Arab/jazz fusion. He has held workshops on Arab music at many institutions and universities across the United States. A native of East Jerusalem, he resides in New York City. http://www.brooklynartscouncil.org/documents/784