Simons Center Gallery, Simons Center for Geometry and Physics, Stony Brook University, NY
August 1 – December 15, 2019
Opening Reception: Thursday, October 24, 2019
Reception: 5:00 pm, Simons Center Gallery and SCGP Lobby
Guest Speaker: 5:30 pm, Domhnaill Hernon, Head of Experiments in Art and Technology (E.A.T.), Nokia Bell Labs, Murray Hill, NJ
Lecture Title: On the Importance of Fusing Art and Science to Humanize Technology
The Della Pietra Family Auditorium, SCGP 103
Curated by Lorraine Walsh
Art Director and Curator, Simons Center for Geometry and Physics
Visiting Associate Professor, Department of Art, Stony Brook University
The Simons Center Gallery is pleased to announce the opening of The Art of Science: Selections from the Collection, featuring work by scientists and artists who have exhibited their work at the Simons Center for Geometry and Physics.
Real and imagined science, visualized by mathematicians, physicists, and artists alike, is on display in the gallery. The art includes a dazzling array of ideas and forms inspired by physics, geometry, neuroscience, and ethnographic traditions. Evident in this work is that while there are endless distinctions in these human endeavors in science and art, they both share a great curiosity to see the world in new ways and to convey that vision.
The sixteen scientists and artists contributing to the exhibition are Nikolay Bogoliubov, Insup Choi, Jean-François Dars, Eric J. Heller, Avi Ma'ayan, Gary Matthews, Dan Meyer, Ryan and Trevor Oakes, Anthony Phillips, Prithviraj "Raj" Rajebhosale, Elena Sanchez-Rodriguez, Xiwei Shan, Claudia Silva, Frédérique Swist and Jacqueline Thomas.
The guest speaker Domhnaill Hernon is an award-winning technology, innovation and creativity executive. Domhnaill received an undergrad in Aeronautical Engineering and a PhD in Aerodynamics from the University of Limerick and an executive MBA from Dublin City University, Ireland. He previously led R&D organizations and developed and executed strategies to overcome the "innovation valley of death." Domhnaill is Head of Experiments in Art and Technology (E.A.T) at Nokia Bell Labs, which is a new initiative he founded to fuse art and engineering/science to develop solutions that humanize technology. Domhnaill's work has been featured in Wired Magazine, Times Square, SXSW, Nasdaq, MWC, Ars Electronica and Inspirefest, to name just a few, and he advises cultural programs globally.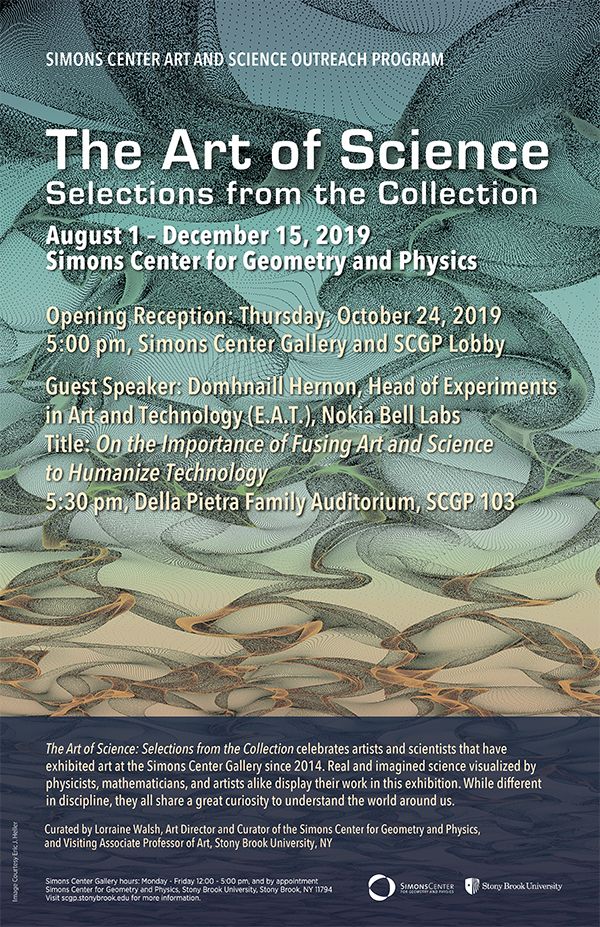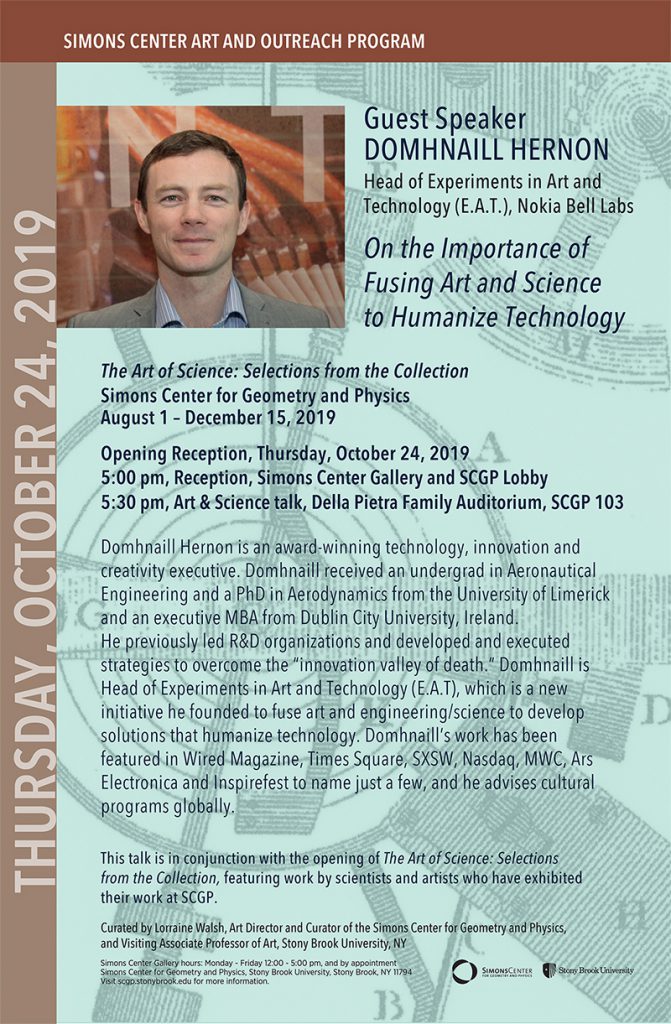 Visitor Information
Simons Center Gallery hours: Monday- Friday 12:00 – 5:00 pm, and by appointment.
Directions to Simons Center for Geometry and Physics: http://scgp.stonybrook.edu/about/directions
For more information visit http://scgp.stonybrook.edu or call 631-632-2800.
~
The Simons Center Gallery's goals include hosting the highest quality and most intellectually inquisitive art by internationally acclaimed artists working at the intersection of art, science, and technology. The exhibitions and events at the Simons Center for Geometry and Physics at Stony Brook University feature artistic and scientific concepts accessible through a broad range of media for meaningful experiences that ignite imagination and inspire ideas.










Eric Heller, Random Sphere I, Luminage Archival Digital Print











Prithviraj "Raj" Rajebhosale, Untitled, Archival Digital Print