Simons Center Cafe
About the Café: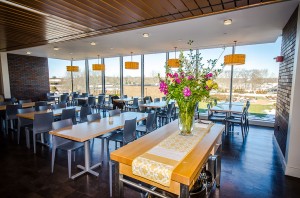 The Simons Center Café is a new restaurant with a fresh and modern style that focuses on organically inspired French, Italian, and American cuisines.
The menu is crafted daily by Chef Paolo Fontana. The array of options for soups, salads, entrees, and desserts is bound to leave you longing for more! The Café's inspiration is fueled by New York City and Long Island style of cooking and living– fresh and vibrant.
Contact the Café:
For reservations:  631-632-2881
Email: cafe@scgp.stonybrook.edu
Breakfast Monday thru Friday 8:30 a.m. – 10 a.m.
Lunch Monday thru Friday 11:30 a.m. to 2:30 p.m.
The Café is located on the second floor of the Simons Center for Geometry and Physics.
Chef Paolo Fontana's story is a simple one. From his early cooking years to working with renowned Chefs, everything that Paolo Fontana has achieved is grander, richer, and just plain flavorful.
Chef Paolo grew up in New York; a young boy of immigrant Sicilian parents. His love for cooking started at a very young age when he would spend time in the kitchen cooking with his mother.
Throughout his life, Chef Paolo studied in Avellino (Italy), The Culinary Institute of America in New York, Stony Brook University, and NYU. Chef Paolo has also devoted himself to teaching the art of cooking to others as a culinary instructor at NYIT in New York.
Chef Paolo has worked as an apprentice to world-renowned chef Mario Batali and as sous chef for one of his personal favorites, Chef Michael Romano. His talent and skills have taken him to an array of restaurants. He has worked for New York culinary landmarks such as Union Square Café, Babbo, Gramercy Tavern, Craft, and most recently, Mirabelle, under award winning and La Toque d'Argent recipient, Chef Guy Reuge. He has also worked at Chez Panisse in Berkeley, California.
After a successful career  in kitchens around the world and after opening his own restaurant Bracci, Chef Paolo wanted a new passion to call his own. He is currently the executive chef at the Simons Center for Geometry and Physics Café and serves as a consultant for major corporations. When he is not in the kitchen working on his marvelous creations, he is spending time in his organic garden or making glass mosaics.
You will find him at our Café creating devilishly good masterpieces that focus on French, Italian, and American cuisines.
As Chef Paolo quotes "Nothing would be more tiresome than eating and drinking if God had not made them a pleasure as well as a necessity – Voltaire".