[KE]3 175 prepared dc-motors, 150 filler wires, 25 cotton balls, 3 screens, 25 cardboard boxes
February 5 – April 9, 2015
Simons Center Gallery
Curated by Lorraine Walsh
Schedule of Events:

Opening Reception: Thursday February 5th, 2015
5:00 pm: Wine and Cheese Reception, Simons Center Lobby and Art Gallery
Artist talk by Zimoun, 4:00 pm, SCGP Room102
Title: "Primitive Complexity" Watch the Video
Closing Reception: April 9th, 2015
5:00pm: Wine and Cheese Reception, Simons Center Lobby and Art Gallery
http://hyperallergic.com/188827/kinetic-energy-transforms-humble-materials-into-minimalist-drums/
The Simons Center Gallery presents a solo exhibition by Zimoun, an internationally acclaimed artist of kinetic sound sculpture, sound architecture and installation art. KE, part of the exhibition title, refers to the physics symbol for kinetic energy describing the energy an object possesses due to its motion.
Zimoun combines raw, industrial materials such as cardboard boxes, plastic bags, or packing paper with mechanical elements including dc-motors, wires, microphones, speakers and ventilators. Using these seemingly commonplace industrial objects, Zimoun creates unexpected beauty in architectonic installations of sound. Exploring mechanical rhythm and flow in prepared systems, his work suggests a balance between orderly patterns of Modernism with underlying chaotic forces. Zimoun's installation and sounds cantillate an acoustic hum of natural phenomena in minimalist constructions that effortlessly reverberate in space.
Based in Switzerland, Zimoun has presented his work in solo and group exhibitions, as well as performances, internationally. Recent exhibitions include the Nam June Paik Art Museum in Korea; Kuandu Museum of Fine Arts, Taipei; Ringling Museum of Art, Florida; Harnett Museum of Art, Richmond; bitforms gallery New York; Kunsthalle Bern; Seoul Museum of Art; Museum of Contemporary Art Liechtenstein; Fine Arts Museum Rennes; Art Basel; Galerie Denise Ren© Paris; Museum Les Champs Libres, Rennes; Contemporary Art Museum MNAC Bucharest; Beall Art Center, Los Angeles; Bell Gallery, List Art Center, Brown University, Providence; CUNY Graduate Center, New York; Museum of Fine Arts Bern; Museum of Contemporary Art MSUM, Ljubljana; National Art Museum, Beijing; Museum of Fine Arts Lugano; among others. Awards and art prizes include Bundesamt for Kultur/BAK, the Aeschlimann Corti Award, Prix Ars Electronica and the Kiefer Hablitzel Preis, Swiss Art Awards.
Additional support kindly provided by Swiss Arts Council Pro Helvetia and swissnex boston.
Click here to see Zimoun's compilation
216 prepared dc-motors, filler wire 1.0mm, 2009-10
80 prepared dc-motors, cotton balls, cardboard boxes 81x 81 x 81cm, 2011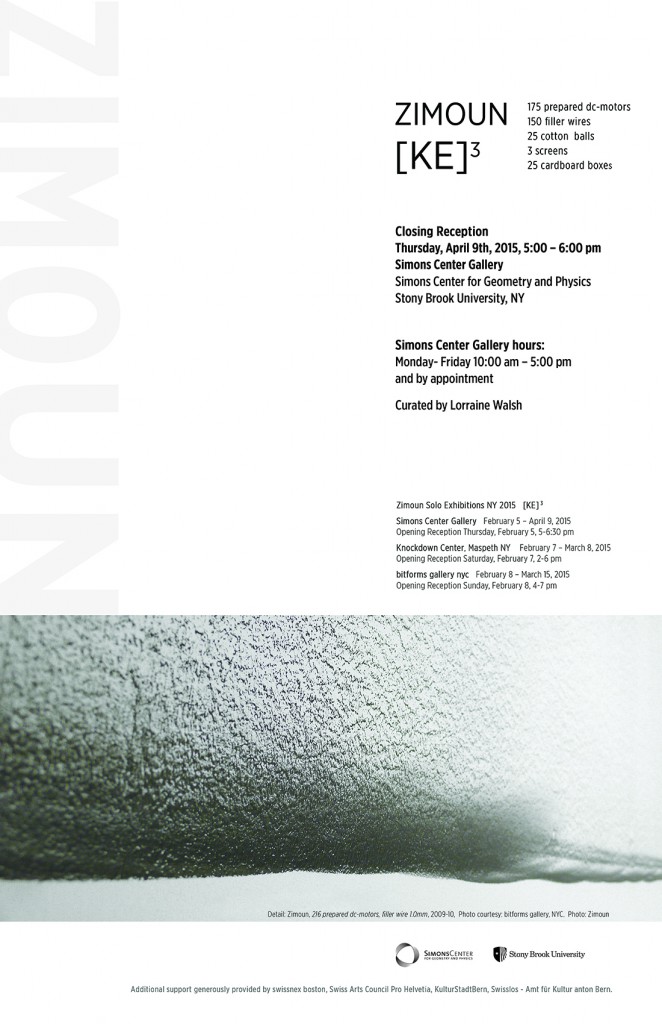 All photos courtesy: bitforms gallery, New York
Photo by Studio Zimoun