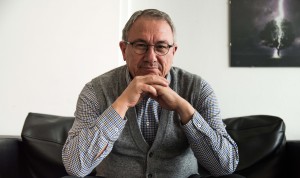 The Simons Center for Geometry and Physics is delighted to announce that Dr. Luis Álvarez-Gaumé will be joining the Center as its Director effective September 1st, 2016. Dr. Álvarez-Gaumé did his undergraduate work at the Autonoma University in Madrid, and his graduate work at Stony Brook University and MIT.  He received his Ph.D. from Stony Brook University in 1981.  After positions at  Harvard and Boston University he joined the Theory Division at CERN as a Senior member where he has been ever since.  He has been the Deputy Head and the Head of the Theory Group for a number of years.  His position at CERN has brought him in contact with a large part of the theoretical and experimental high energy community.
Dr. Álvarez-Gaumé's work has centered mostly upon string theory, quantum field theory and lately cosmology. He is better known for his work on supersymmetric field theories, the study of anomalies, the use of Witten's index to study the Atiyah-Singer index theorem, and lately he is interested on the study of cosmology, black hole physics and string theory.  He has written introductory lectures on Quantum Field Theory and reviewed many aspects of string theory and field theory. Since 2003 he has been a corresponding member of the Spanish Royal Academy of Sciences.
The Center will benefit from Dr. Álvarez-Gaumé's knowledge and expertise, and everyone associated with the Center is excited to have him join us.