Form & Line
Featuring the work of artist Beverly Ress and the
Virginia Tech Industrial Design Students
March 3 – April 21, 2016
Simons Center Gallery
Curated by Lorraine Walsh, Art Director and Curator,
Simons Center for Geometry and Physics, Stony Brook University
Opening Reception: Thursday, March 3, 2016
5:00 pm: Wine and Cheese Reception
Simons Center Gallery and Lobby
5:45 pm: Talk Form to Product by Mitzi R. Vernon, SCGP 103
Closing Reception: Thursday, April 21, 2016
5:00 pm: Wine and Cheese Reception
Simons Center Gallery and Lobby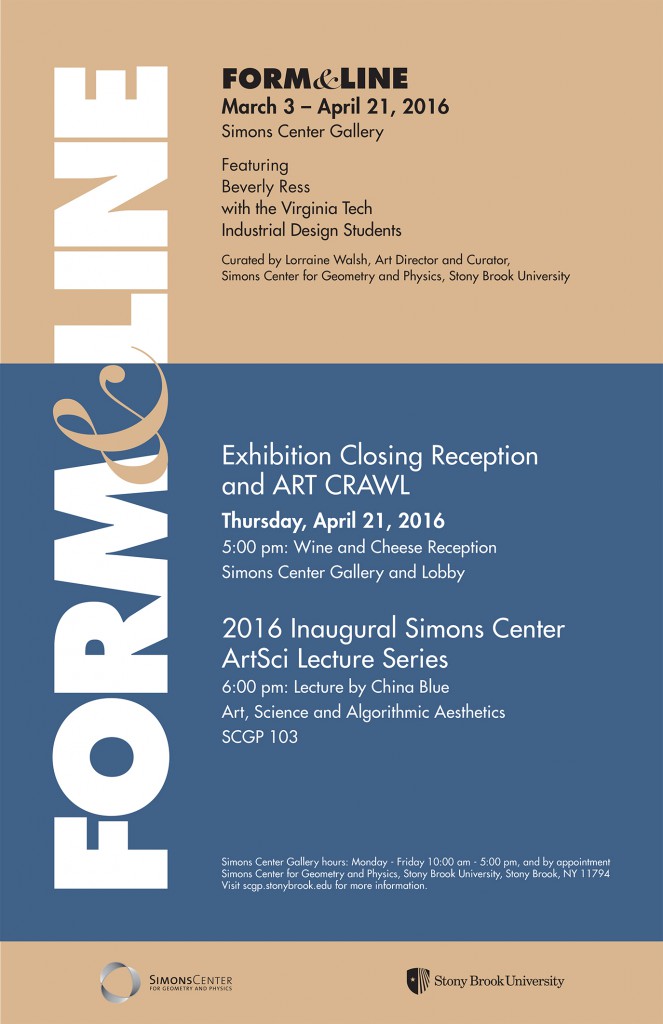 2016 Simons Center Inaugural ArtSci Lecture Series
6:00 pm: Artist Talk by China Blue, Art, Science and Algorithmic Aesthetics, SCGP 103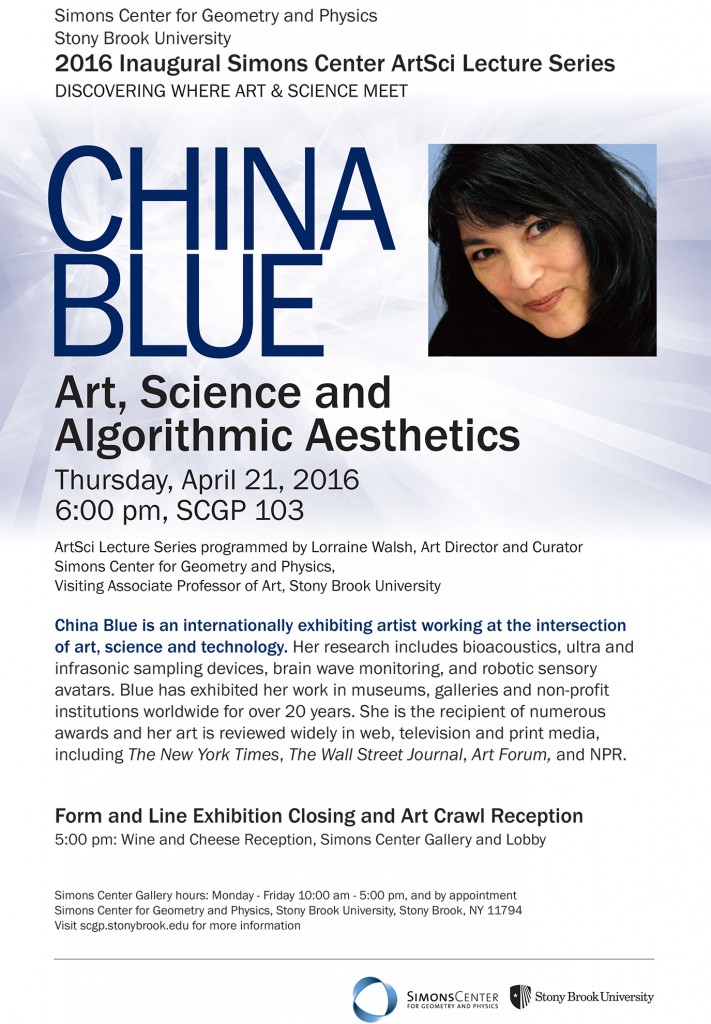 The exhibition Form & Line features the work of artist Beverly Ress alongside the nascent products by
Virginia Tech Industrial Design students. Dissimilar in concept and outcome, their paired artwork provides
uncanny affinities. Ress's beautiful inquiry of natural forms, including universal shapes such as the torus,
Klein bottle and Möbius strip, and the student's exploration of line, volume, and planar analysis, exquisitely
discover form and line anew.
Beverly Ress's recent solo exhibitions of her drawings include The Katzen Museum, Washington, DC and The Kentler International Drawing Space, Brooklyn, New York, NY. Her work is often featured in National
Drawing Invitationals in venues such as the Weatherspoon Art Museum and the Arkansas Arts Center. Ress's group exhibits include Schema Projects, Brooklyn; Chroma Gallery, Charlottesville, VA and the Maryland Institute College of Art, Baltimore, among many others.
For the past several years, Ress has worked with museum collections, making carefully observed drawings
of specimens during artist-in- residencies at the National Museum of Natural History, the National Museum of
Health and Medicine, the Mammalian Brain Lab at George Washington University, and at the Mutter
Museum. She combines ideas in science and art in pursuit of a delicately structured contemporary memento
mori.
The Virginia Tech Industrial Design students are participants in a larger group traveling exhibition
titled FORM | Line-Plane- Solid, which examines the critical role of 'form' in product design. The exhibit
features 200+ projects from an undergraduate course called Form Studio. The exhibit story centers on a
core concept, 'form-matrix,' which includes 6 divisions of form and how they intersect: 3 modes–Line, Plane,
and Solid and 3 behavioral genres—Flow (fluid), Tecto (tectonic), and Roto (rotational). The projects span 6
different form exercises (linear flowform; planar flowform; solid flowform; planar tectoform, solid tectoform,
rotoform) and 4 different form products (platter; hand tool; vessel; citrus juicer).
Special thanks to Mitzi R. Vernon, Dean, College of Design, University of Kentucky; CIDER, The Center for
Instructional Development and Educational Research at Virginia Tech, and the DC Commission on the Arts
and Humanities, Washington DC.