Simons Center Gallery Opening Reception
Buckminster Fuller: Inventing for Today
Monday, May 9 – Thursday, August 25, 2016
Simons Center Gallery
Curated by Lorraine Walsh
Opening Reception: Thursday, May 12, 2016
5:00 pm: Wine and Cheese Reception, Simons Center Gallery and Lobby
5:45 pm: Guest Speaker: Kurt Przybilla, Explorations in the Geometry of Thinking, SCGP 103
                                                                                           ~
Buckminster Fuller: Inventing for Today at the Simons Center Gallery sheds light on Fuller's legacy as a great inventor that resonates in art, science and industry today. The exhibition features thirteen screenprints of Fuller's patented inventions, photos of his architecture classes including working on a geodesic dome with students at Black Mountain College in North Carolina, and Fuller's unique geometric sculptureDuo-Tet Star Polyhedras.
Born in 1895, Fuller worked for more than five decades developing experimental solutions that reflected his commitment to the potential of innovative design to create technology that does "more with less." Throughout the course of his life Fuller held 28 patents, authored over 30 books, and received 47 honorary degrees. While his most well known work, the geodesic dome, has been produced over 300,000 times worldwide, Fuller's true impact on the world today can be found in his continued influence upon generations of designers, architects, scientists and artists committed to creating a more sustainable and viable planet.
Shortly before his death in 1983, Fuller received the Presidential Medal of Freedom, the nation's highest civilian honor, with a citation acknowledging that his "contributions as a geometrician, educator, and architect-designer are benchmarks of accomplishment in their fields."
Bio of Guest Speaker:
On May 12th, there will be a talk by Kurt Przybilla — an inventor, writer, producer, and educator. As co-creator, writer, and producer of theMolecularium, an outreach and educational program by the Nanotechnology Center at Rensselaer Polytechnic Institute (RPI) in Troy, NY, Przybilla produced and co-wrote numerous projects including Molecules to the MAX!, a 3D animated film for Giant Screen IMAX theaters;Molecularium, an award-winning digital dome feature; and NanoSpace, a game-based online theme park created to teach children about atoms and molecules. Notably, he invented Tetra Tops®, the world's first spinning top with more than one axis of spin, which was inspired by the works of Buckminster Fuller and has been featured in The New York Times, Popular Science, Baby Einstein, Child, Discover Magazine,and exhibited at the Smithsonian Institute.
Special thanks to Carl Solway Gallery, Cincinnati, OH; Black Mountain College + Arts Center, Asheville, NC; The Buckminster Fuller Institute, Brooklyn, NY; and The Estate of R. Buckminster Fuller.
Visitor Information:
Directions to Simons Center for Geometry and Physics: https://scgp.stonybrook.edu/about/directions
Hours: Simons Center Gallery hours: Monday– Friday 10:00 am – 5:00 pm and by appointment; Closed Saturday, Sunday, and Holidays.
For more information visit https://scgp.stonybrook.edu or call 631-632-2800.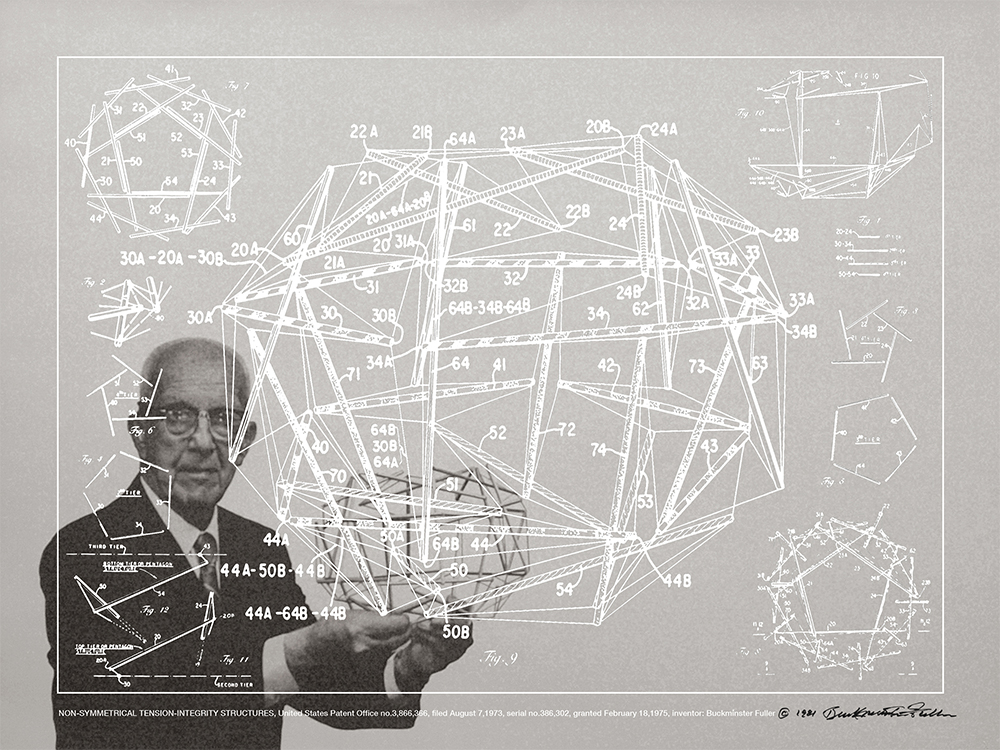 Image courtesy Carl Solway Gallery, Cincinnati, OH / The Estate of R. Buckminster Fuller. All Rights Reserved.