The Simons Center Gallery is pleased to announce the opening of GEOMETRIC LANDSCAPES, a solo exhibition featuring work by the artist and mathematician Nikolay Bogoliubov.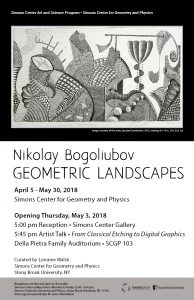 Simons Center Gallery, Stony Brook, NY
April 5 – May 30, 2018
Opening Reception
Thursday, May 3, 2018
Reception: 5:00 – 5:30 pm, Simons Center Gallery and Lobby
Guest Speaker: 5:45 pm, Artist talk by Nikolay Bogoliubov, "From Classical Etching to Digital Graphics"
Della Pietra Family Auditorium, SCGP 103
Curated by Lorraine Walsh
Art Director and Curator, Simons Center for Geometry and Physics
Visiting Associate Professor, Department of Art, Stony Brook University
The artist and scientist, seemingly polar opposites, cross paths in an open-minded inquiry when creating art or solving a problem. It is in this search where invention is key and a willingness to experiment are essential ingredients for original ideas. This process is assuredly evident in the work by Nikolay Bogoliubov. As stated by Bogoliubov: "Working on mathematical problems I imagine the future picture. And very often I find the solution to a mathematical problem when drawing a picture." Bogoliubov's futuristic landscapes are fantastic. They are fanciful and whimsically outlandish. His geometric vistas reveal curving algebraic topologies and forms on curious trajectories inhabitable only by the imagination. Bogoliubov states "When drawing, I am interested in the way the shape fills the space and how the surfaces interact with each other, forming cross-contours in the plane of the picture. Inventing textures for the emerging conglomeration of geometric patterns I create my abstract landscapes."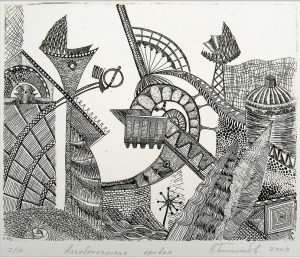 A consummate printmaker and painter, Bogoliubov is a member of the Union of Artists of Russia. Working in a variety of print methods, his favorite technique is etching. Other media include colored pencils, gouache, pastel, and acrylic. His artwork is held in private collections in Russia, Europe, and the United States. Bogoliubov received the Computer Graphics award at the 2014 Second International Triennale of Graphics in St. Petersburg. As a scientist, Bogoliubov experiments with computer graphics and digital technology. He holds a PhD and Doctor of Sciences in Mathematics from Saint Petersburg State University, Russia, and is currently based in Saint Petersburg.
Nikolay Bogoliubov's art will include three distinct forms of printmaking on view in the Simons Center Gallery: etching (part of the intaglio family), collagraphy, and digital printmaking.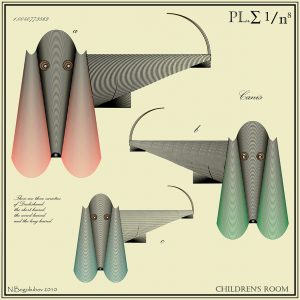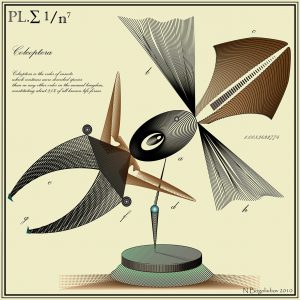 Visitor Information
Simons Center Gallery hours: Monday- Friday 12:00 – 5:00 pm, and by appointment.
Directions to Simons Center for Geometry and Physics: https://scgp.stonybrook.edu/about/directions
For more information visit https://scgp.stonybrook.edu or call 631-632-2800.
~
The Simons Center Gallery's goals include hosting the highest quality and most intellectually inquisitive art by internationally acclaimed artists working at the intersection of art, science, and technology. The exhibitions and events at the Simons Center for Geometry and Physics at Stony Brook University feature artistic and scientific concepts accessible through a broad range of media for meaningful experiences that ignite imagination and inspire ideas.