Summer 2019 Tuesday Concerts
The Art and Science Program at the Simons Center for Geometry and Physics at Stony Brook University is pleased to present a new music series free and open to the public:
Tuesday, July 16, 2019
Three Village Chamber Players
5:00 – 5:30 pm: Reception in the Simons Center Lobby and Gallery
5:30 – 6:30 pm: Concert in the Simons Center Auditorium
Tuesday July 23, 2019
The Doxas/Ambrosio/Hart Trio Jazz Ensemble (Chet Doxas – saxophone, Dave Ambrosio – bass, Billy Hart – drums)
5:00 – 5:30 pm: Reception in the Simons Center Lobby and Gallery
5:30 – 6:30 pm: Concert in the Simons Center Auditorium

Tuesday July 30, 2019
Andrew York, Classical Guitarist
5:00 – 5:30 pm: Reception in the Simons Center Lobby and Gallery
5:30 – 6:30 pm: Concert in the Simons Center Auditorium

Tuesday, August 6, 2019
The Parzival Project (Emmanuel Vukovich – violin, John McDowell – drums & invited guests) Original music by Emmanuel Vukovich and John McDowell
5:00 – 5:30 pm: Reception in the Simons Center Lobby and Gallery
5:30 – 6:30 pm: Concert in the Simons Center Auditorium
---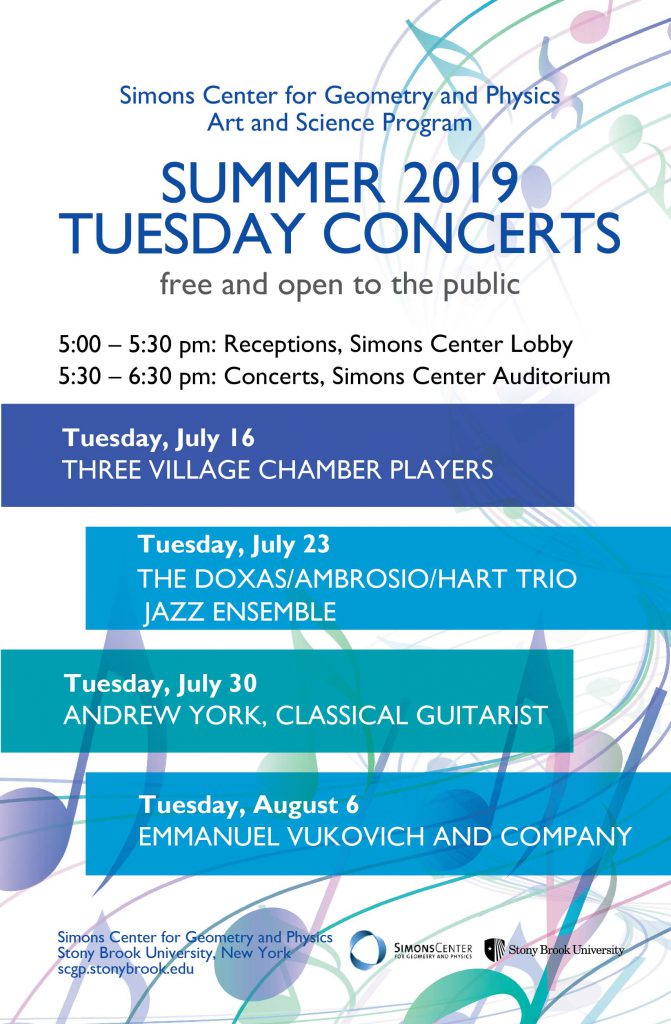 Join the Three Village Chamber Players in a tour around Baroque Europe.

Program
Trio Sonata no. 2, op. 3 in D by Jacques-Martin Hotteterre (1674-1763)
Prelude gravement
Courante Legerement
Grave
Gigue Vivement
"Ciaccona" from Selva di varie compositioni d'intavolatura per cimbalo ed organo (1664) by Gernado Storace (1637-1707)
"Paris" Quartet No. 3 in G Major, TWV 43 G4 by Georg Philipp Telemann (1681-1767)
Prelude
Legerement
Gracieusement
Vite
Modere
Gay
Prelude in D Major from L'Art De Preluder by Jacques-Martin Hotteterre (1674-1763)
Trio Sonata in D minor by Alessandro Stradella (1643-1682)
Performed by:
Anna Tsukervanik, Baroque Violin
Lynn Hallarman, Traverso (Baroque Flute)
Alison Rowe, Baroque Cello
Joyce Chen, Harpsichord

---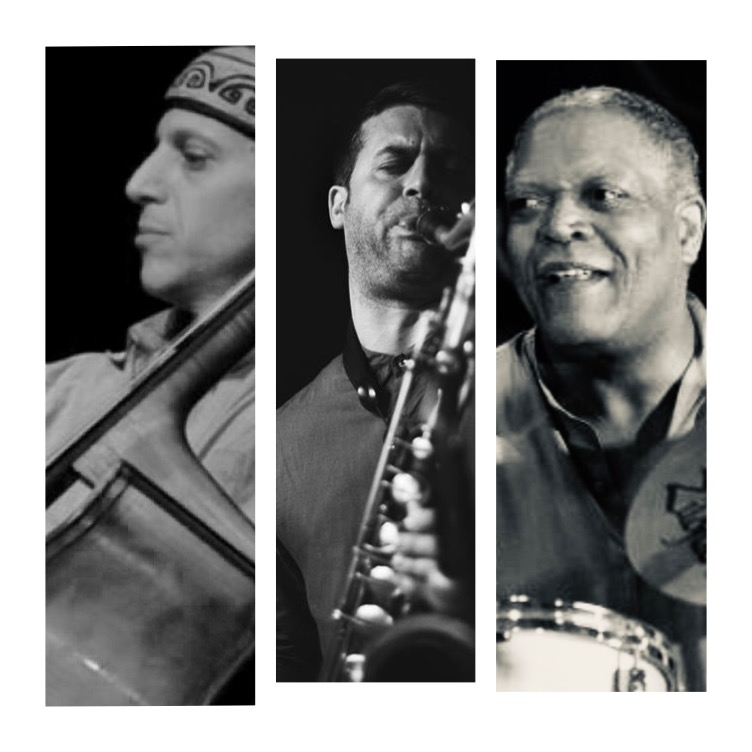 Saxophonist, Chet Doxas and bassist Dave Ambrosio are delighted to invite the legendary jazz drummer, Billy Hart to join them in a celebration of American popular song and jazz classics. The group will perform a selection of songs which highlight the illustrious career of Mr. Hart, a life in music that has featured collaborations with luminaries such as Miles Davis and Herbie Hancock. The trio format of saxophone, bass and drums is one that allows room for even more more of what makes Jazz so unique: Improvisation!
---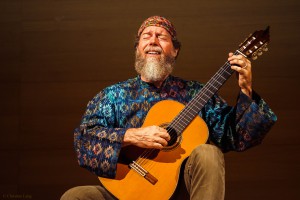 Andrew York is one of today's best loved composers for classical guitar and a performer of international stature. His compositions blend the styles of ancient eras with modern musical directions, creating music that is at once vital, multi-leveled and accessible. Andrew received a GRAMMY as a member of the Los Angeles Guitar Quartet during his sixteen years with the cutting-edge ensemble. York's compositions have been featured on GRAMMY-winning recordings by Jason Vieaux (CD "Play", featuring Andrew's iconic composition "Sunburst", 2015) and Sharon Isbin (CD "Journey to the New World" featuring "Andecy", 2010). In 2006 Andrew recorded and performed with the Atlanta Symphony for the opera "Ainadamar" by Osvaldo Golijov. The recording of "Ainadamar" (Deutsche Gramophone) won two GRAMMY awards. Andrew has released CDs on Sony-U.S., Sony-Japan, King Records (Japan), Telarc, GSP and Delos labels, as well as inclusion on Rhino Records "Legends of Guitar" and numerous other compilations. Andrew's 2010 CD release "Centerpeace" offers individual collaborations with guitarist Andy Summers, and pianists Mitsuko Kado and Allaudin Mathieu. Andrew's most recent solo recording "Yamour" was released on vinyl as a double LP album, and garnered the number one spot in Acoustic Guitar Magazine's "Essential Recordings of 2012" by editor Teja Gerken. Commenting on the more than eighty minutes of new pieces for solo guitar he composed for this major work, Andrew says "When I write I feel a connection to my spirit and the joy and sorrow of life. My entire life comes into focus and there is no separation between me as a boy, a young man
---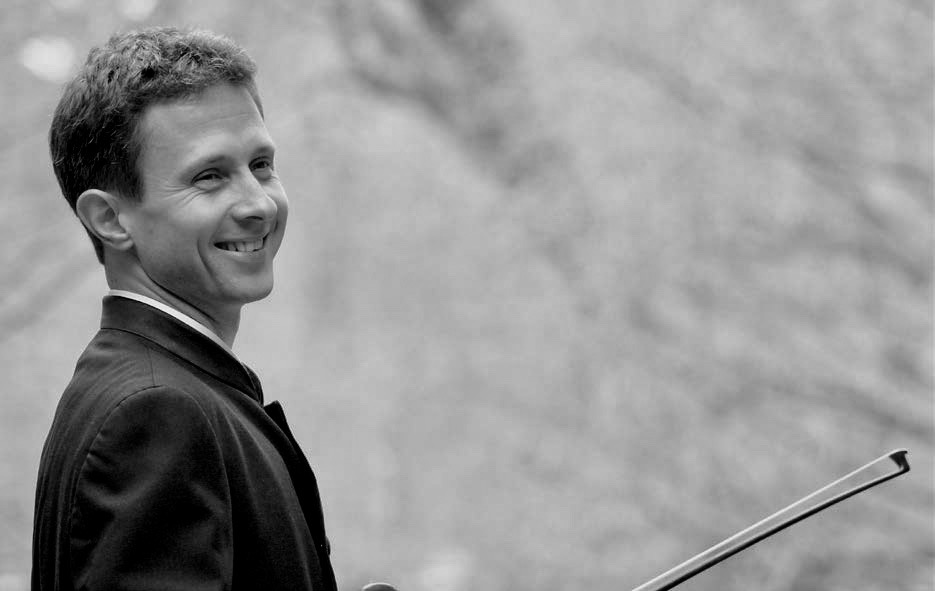 Emanuel Vukovich is critically acclaimed for his "attention to every detail of phrasing" Canadian violinist Emmanuel Vukovich is emerging as an artist of musical integrity and maturity. Grand-prize winner of the Fischoff National Chamber Music Competition as first violinist the Lloyd Carr-Harris String Quartet, Emmanuel is the current recipient of the 1700 'Bell' Giovanni Tononi violin on generous loan from The Canada Council for the Arts Musical Instrument Bank. He is founder and artistic director of The Parcival Project, an international chamber music collective that has toured Canada and South America and artist in residence at Montreal's Chapelle Historique du Bon Pasteur "Bach Odyssey" – a multiyear series centered around the solo violin Sonatas and Partitas of J S Bach.
Recently completing his Master of Music and Graduate Diploma degrees at New England Conservatory of Music with Donald Weilerstein, Lucy Chapman, and Soovin Kim, Emmanuel is currently a candidate for the Doctor of Music degree at Stony Brook University working with the Emerson String Quartet and focusing his thesis on collaborative leadership in performance. This interest in leadership has led him to work with Otto Scharmer and the Presencing Institute at MIT in Boston. Emmanuel's final lecture recital will present the world premiere performance of an original composition on the story of Parzival & Fierefiz for solo violin, string quartet, and West African drum ensemble co-written with New York composer John McDowell. His final recital in 2018-19 will present the complete solo violin Sonatas and Partitas of Johann Sebastian Bach.