The exhibition runs from November 5th – December 21st and can usually be viewed Monday-Friday, 10 am – 5 pm.
Please call ahead to check gallery hours.
631-632-2800
controlled evidence
by margaret schedel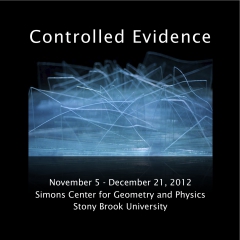 The preeminent authority on data and statistical visualization, Edward Tufte, wrote "the commonality between science and art is in trying to see profoundly – to develop strategies of seeing and showing."
Controlled Evidence
showcases artists working across the science-art boundary, offering new perspectives on science, technology, and society through multiple art forms including print, sculpture, interactive auditory and visual display, artificial intelligence, and video transcoded into sound. Interpreting and understanding "big data" is one of the challenges of our time; the artists in this exhibit capture, curate, manage, and process information to create compelling works which are chimeras of art and science.
In this collection of pieces, works are created at least in part by some outside source of data that is not under the artist's control. Some of the pieces are generated in real time through data collected via the internet: In RYBN's work a trading "robot " buys and sells stocks in the name of art, while Art of Failure's Internet EEG gives a visualization of the time it takes the Simons Center to return signals sent to government servers from all countries in the United Nations. Nicolas Maigret's work System Introspection allows the viewer to interface with the data via a trackpad, creating sound and video directly from the files on the hard drive of a used computer. Similarly, Shawn Greelee's Sieves creates sound from algorithmic treatment of video, transcoding pixels in the image into audio samples. The prints in Songs of Milarepa were created through an inverse process in which image is derived from sound. Melissa Clarke's sculpture ice gouge can be seen as a cast of a multitude of data types into a single object referencing the qualities of ice, while Paul Prudence's simulations of recursive functions using software simulated video feedback generate organic shapes from methodical methods.
In the October 2012 issue of the Harvard Business Review, Thomas H. Davenport and D.J. Patil posit that the people with the skill set (and mind-set) to put big data to use are at least as important as the technology itself. "The dominant trait these new data scientists is intense curiosity—a desire to go beneath the surface of a problem, find the questions at its heart, and distill them into a very clear set of hypotheses that can be tested. This often entails the associative thinking that characterizes the most creative scientists in any field. Think of him or her as a hybrid of data hacker, analyst, communicator, and trusted adviser. The combination is extremely powerful—and rare." One could say the same for artists working with big data; they have the desire to distill large data sets into a form comprehensible as artwork. The artists in Controlled Evidence are powerful and rare hybrids of hacker, analyst, communicator, and creative scientist.
Photos