Organized by Alexander Kirillov, Jr., Ljudmila Kamenova, Hiraku Nakajima, and Olivier Schiffmann.
Dates: October 14 – 18, 2013
Attendee ListDownload Talk ScheduleView Videos
Quivers and quiver varieties, introduced and studied in a series of papers of Nakajima, Lusztig, Ringel, and others in 1990s, have since appeared in many areas of mathematics and mathematical physics, including gauge theory, string theory, noncommutative geometry, geometric representation theory, and geometry. They were instrumental in the geometric constructions of Lie algebras, their representations, and categorification.
This workshop will be focused on the recent developments in the theory of quiver varieties, both in mathematics and in relation to physics such as BPS/CFT correspondence.
This workshop is a part of the Fall 2013 program, Quiver Varieties, which is organized by Ljudmila Kamenova, Alexander Kirillov, Nikita Nekrasov, and Olivier Schiffmann. This program takes place from September 30 – November 8, 2013.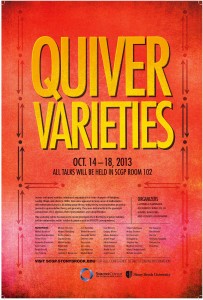 *All workshop talks will be held in the Simons Center Lecture Hall (Room 102)
*Algebraic Geometry Seminar on Wednesday will be in the Math Tower P-131
*More information on the Della Pietra Lecture Series by Dr. Stephen Quake: https://scgp.stonybrook.edu/archives/8499
Quiver Varieties Workshop Schedule