The Simons Center for Geometry and Physics Art and Science Program presents,
Film screening of "Whispers of String Theory"
Author, Director, Producer: Ekaterina Eremenko
Camera: Irina Shatalova
Music: Arthur Khayrullin
Duration: 24 min 30 sec
Thursday, July 27, 2017
5:00 pm
The Della Pietra Family Auditorium
Simons Center for Geometry and Physics
Stony Brook University
An international meeting of physicists working in the most challenging and abstract field. A good sports commentator can turn you into a fan, likewise we are drawn into this secluded world by the right people: scientists telling about their colleagues- brave, intimate, direct… in whispers.
Director's notes: 
Physicist, like no one else, changed our life over the last centuries. Yet their world is a secluded club with its own specific language. What could be more interesting than to sneak in and look what is happening there?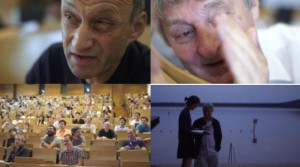 Ekaterina Eremenko Films Kaiserin-Augusta Allee 38 10589 Berlin Germany, ee@eefilms.de