Daycare InfoAttendee ListView VideosPhotos weeks 1-2Photos weeks 3-4 Publications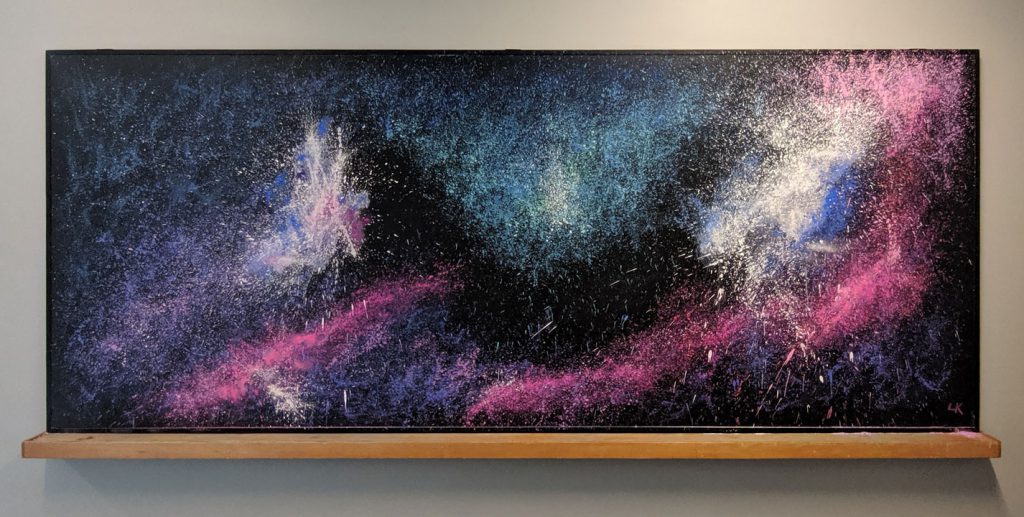 Scientific organizers: Marilena Loverde and Cumrun Vafa, Local organizer: Martin Rocek
This Workshop is the twelfth conducted by the Simons Center for Geometry and Physics at Stony Brook and the seventeenth in the series Simons Summer Workshops. This year's summer workshop will focus on cosmology and its realization in string theory.  We review the status of observational data, both in the context of the very early universe as well as more recent epochs, with particular focus on the observational data on dark energy and dark matter.  Moreover we discuss various theoretical ideas in cosmology, such as inflationary models and the associated challenges in their realization in string theory as well as novel stringy inspired approaches to solving cosmological issues.  The main aim of this workshop is to generate new ideas needed to bring string theory closer to cosmological observations as well as possibly leading to new stringy predictions for the dark sector.
Schedule Week 1
Schedule Week 2
Schedule Week 3
Schedule Week 4
Mondays, Tuesdays, Thursdays, and Fridays

All talks will be held in the Simons Center for Geometry and Physics Lecture Hall (Room 102).
Breakfast will be served daily from 9:00am-10:00am in the Simons Center Cafe, 2nd floor.
Lunch will be served from 12:00pm-2:00pm in the Simons Center Cafe, 2nd floor.
Tea time will be in the Simons Center Lobby at 3:30pm.
Wednesdays
The talk will be at Smith Point Beach (please see transportation website). Lunch will be served at Smith Point Beach around 12:30pm.
*Speakers and titles will be added to the schedule throughout the workshop.
Special thank you to the Bershadsky family for their generous support of this years summer workshop.
Simons Summer Talk and Events Workshop Schedule:
Time
Title
Speaker
Location

Monday July 15

10:00am
Challenges for Inflation and Its End
Scott Watson
SCGP 102
11:00am
Coffee Break
N/A
SCGP Cafe
11:30am
Challenges for Inflation and Its End
Scott Watson Continuation
SCGP 102
12:00pm
Lunch
N/A
SCGP Cafe
3:30pm
Afternoon Break
N/A
SCGP Lobby

Tuesday July 16

10:00am
Reheating the Universe after inflation
Peter Adshead
SCGP 102
11:00am
Coffee Break
N/A
SCGP Cafe
11:30am
Reheating the Universe after inflation
Peter Adshead Continuation
SCGP 102
12:00pm
Lunch
N/A
SCGP Cafe
3:30pm
Afternoon Break
N/A
SCGP Lobby
5:30pm
Summer Concert Series
Three Village Chamber Players
Simons Center Lobby and Room 103

Wednesday July 17

11:00am
Deciphering the Early Universe: from Large-Scale Structure Observations to Fundamental Physics
Cora Dvorkin
Smiths Point Beach
12:30pm
Lunch
N/A
Smiths Point Beach

Thursday July 18

10:00am
Pixelated Dark Energy
Jonathan Heckman
SCGP 102
11:00am
Coffee Break
N/A
SCGP Cafe
11:30am
Pixelated Dark Energy
Jonathan Heckman Continuation
SCGP 102
12:00pm
Lunch
N/A
SCGP Cafe
3:30pm
Afternoon Break
N/A
SCGP Lobby
7:00pm
Summer Workshop Banquet Hosted by Martin Rocek
N/A
Please see invitation for details

Friday July 19

10:00am
Cosmological aspects of scalar fields
Vivian Poulin
SCGP 102
11:00am
Coffee Break
N/A
SCGP Cafe
11:30am
Cosmological aspects of scalar fields
Vivian Poulin Continuation
SCGP 102
12:00pm
Lunch
N/A
SCGP Cafe
3:30pm
Afternoon Break
N/A
SCGP Lobby
Time
Title
Speaker
Location

Monday July 22

10:00am
Bouncing cosmology made simple
Paul Steinhardt
SCGP 102
11:00am
Coffee Break
N/A
SCGP Cafe
11:30am
Bouncing cosmology made simple
Paul Steinhardt Continuation
SCGP 102
12:00pm
Lunch
N/A
SCGP Cafe
3:30pm
Afternoon Break
N/A
SCGP Lobby

Tuesday July 23

10:00am
Phenomenology of late time cosmic acceleration
Marco Raveri
SCGP 102
11:00am
Coffee Break
N/A
SCGP Cafe
11:30am
Phenomenology of late time cosmic acceleration
Marco Raveri Continuation
SCGP 102
12:00pm
Lunch
N/A
SCGP Cafe
3:30pm
Afternoon Break
N/A
SCGP Lobby
5:30pm
Summer Concert Series
The Doxas/Ambrosio/Hart Trio Jazz Ensemble (Chet Doxas – saxophone, Dave Ambrosio – bass, Billy Hart – drums)
Simons Center Lobby and Room 103

Wednesday July 24

10:00am
Bus Leaves Simons Center
N/A
Drop Off: Smiths Point Beach
11:00am
Implications of the Swampland for Cosmology
Eran Palti
Smiths Point Beach
12:30pm
Lunch
N/A
Smiths Point Beach
3:00pm
Bus Leaves Smiths Point Beach
N/A
Drop Off: Simons Center

Thursday July 25

10:00am
Comments on the wavefunction of the universe
Juan Maldacena
SCGP 102
11:00am
Coffee Break
N/A
SCGP Cafe
11:30am
Comments on the wavefunction of the universe
Juan Maldacena Continuation
SCGP 102
12:00pm
Lunch
N/A
SCGP Cafe
3:30pm
Afternoon Break
N/A
SCGP Lobby
5:50pm
Bus Leaves Simons center
N/A
Drop offAvalon Park and Preserve
6:00pm
Jim Simons' Party at Avalon Park and Preserve
N/A
Avalon Park and Preserve
9:00pm
Bus Leaves Avalon Park and Preserve
N/A
Drop off Simons Center and Danfords

Friday July 26

10:00am
Cosmology and Theory Space
Simeon Hellerman
SCGP 102
11:00am
Coffee Break
N/A
SCGP Cafe
11:30am
Cosmology and Theory Space
Simeon Hellerman Continuation
SCGP 102
12:00pm
Lunch
N/A
SCGP Cafe
3:30pm
Afternoon Break
N/A
SCGP Lobby
Time
Title
Speaker
Location

Monday July 29

10:00am
Conditions for Eternal Inflation
Tom Rudelius
SCGP 102
11:00am
Coffee Break
N/A
SCGP Cafe
11:30am
Eternal Inflation and the Swampland
Tom Rudelius Continuation
SCGP 102
12:00pm
Lunch
N/A
SCGP Cafe
2:00pm
N=1 conformal dualities
Sergei Razamat
SCGP 102
3:30pm
Afternoon Break
N/A
SCGP Lobby

Tuesday July 30

10:00am
Inflation in String Theory: A Review
Gary Shiu
SCGP 102
11:00am
Coffee Break
N/A
SCGP Cafe
11:30am
Inflation in String Theory: A Review
Gary Shiu Continuation
SCGP 102
2:00pm
Rank Q E-string on a torus
Sergei Razamat
SCGP 102
12:00pm
Lunch
N/A
SCGP Cafe
3:30pm
Afternoon Break
N/A
SCGP Lobby
5:30pm
Summer Concert Series
Performance by Andrew York
Simons Center Lobby and Room 103

Wednesday July 31

10:00am
Bus Leaves Simons Center
N/A
Drop Off: Smiths Point Beach
11:00am
Early Universe Models: Successes and Challenges
Robert Brandenberger
Smiths Point Beach
12:30pm
Lunch
N/A
Smiths Point Beach
3:00pm
Bus Leaves Smiths Point Beach
N/A
Drop Off: Simons Center

Thursday August 1

10:00am
Shift symmetries and partial masslessness in de Sitter space
Kurt Hinterbichler
SCGP 102
11:00am
Coffee Break
N/A
SCGP Cafe
11:30am
Shift symmetries and partial masslessness in de Sitter space
Kurt Hinterbichler Continuation
SCGP 102
12:00pm
Lunch
N/A
SCGP Cafe
3:30pm
Afternoon Break
N/A
SCGP Lobby
5:30pm
Summer Workshop BBQ hosted by the Simons Center Director
N/A
N/A

Friday August 2

10:00am
Cosmic Censorship and Holography
Netta Engelhardt
SCGP 102
11:00am
Coffee Break
N/A
SCGP Cafe
11:30am
Cosmic Censorship and Holography
Netta Engelhardt Continuation
SCGP 102
12:00pm
Lunch
N/A
SCGP Cafe
3:30pm
Afternoon Break
N/A
SCGP Lobby
Time
Title
Speaker
Location

Monday August 5

10:00am
Scalar fields in cosmology and Swampland conjectures
Prateek Agrawal
SCGP 102
11:00am
Coffee Break
N/A
SCGP Cafe
11:30am
Scalar fields in cosmology and Swampland conjectures
Prateek Agrawal Continuation
SCGP 102
12:00pm
Lunch
N/A
SCGP Cafe
3:30pm
Afternoon Break
N/A
SCGP Lobby
5:45pm
Della Pietra Public Lecture: Supernovae and the Discovery of the Accelerating Universe
Adam Riess
SCGP 102

Tuesday August 6

10:00am
Cosmology from Basic Physics
Marilena Loverde
SCGP 102
11:00am
Coffee Break
N/A
SCGP Cafe
11:30am
Cosmology from Basic Physics
Marilena Loverde Continuation
SCGP 102
12:00pm
Lunch
N/A
SCGP Cafe
2:00pm
Della Pietra Lecture Series Technical Talk: The Expansion of the Universe, Faster Than We Thought
Adam Riess
SCGP 102
3:30pm
Afternoon Break
N/A
SCGP Lobby
5:30pm
Summer Concert Series
Emmanuel Vukovich
Simons Center Lobby and Room 103

Wednesday August 7

10:00am
Understanding CMB Fluctuations
David Spergel
SCGP 102
11:00am
Coffee Break
N/A
SCGP Cafe
11:30am
Understanding CMB Fluctuations
David Spergel Continuation
SCGP 102
12:30pm
Lunch
N/A
SCGP Cafe

Thursday August 8

10:00am
The orbit method and de Sitter space from entanglement
Claire Zukowski
SCGP 102
11:00am
Coffee Break
N/A
SCGP Cafe
11:30am
The orbit method and de Sitter space from entanglement
Claire Zukowski Continuation
SCGP 102
12:00pm
Lunch
N/A
SCGP Cafe
3:30pm
Afternoon Break
N/A
SCGP Lobby
5:30pm
Summer Workshop banquet in honor of the Bershadsky family
N/A
Please see invitation for details

Friday August 9

10:00am
Quantum Instabilities in de Sitter: A Discussion
Rachel Rosen
SCGP 102
11:00am
Coffee Break
N/A
SCGP Cafe
11:30am
Quantum Instabilities in de Sitter: A Discussion
Rachel Rosen Continuation
SCGP 102
12:00pm
Lunch
N/A
SCGP Cafe
3:30pm
Afternoon Break
N/A
SCGP Lobby