---
Science is one of the most powerful tools we have for meeting the grave challenges that humanity will face in the next decades. However, the recent worldwide increase in obscurantism, denialism, and anti-science movements is a matter of serious concern. They have already severely undermined efforts to address climate change, and the recent global COVID pandemic. Global problems such as these cannot and should not be solved for the privileged few while ignoring the wider population. Moreover, we will need to harness all of humanity's diversity, in all its forms, in order to find solutions. What do we do to bring more of our society into the scientific conversation? How do we spark life-long appreciation for the sheer joy of "finding things out"? How do we raise awareness that either we are all part of the solution or we face an unsettling future?
---
---
IF YOU ARE NOT REGISTERED FOR IN PERSON ATTENDANCE, YOU CAN WATCH IT LIVE:
stonybrook.edu/live
APRIL 12, 2022 4PM ET
---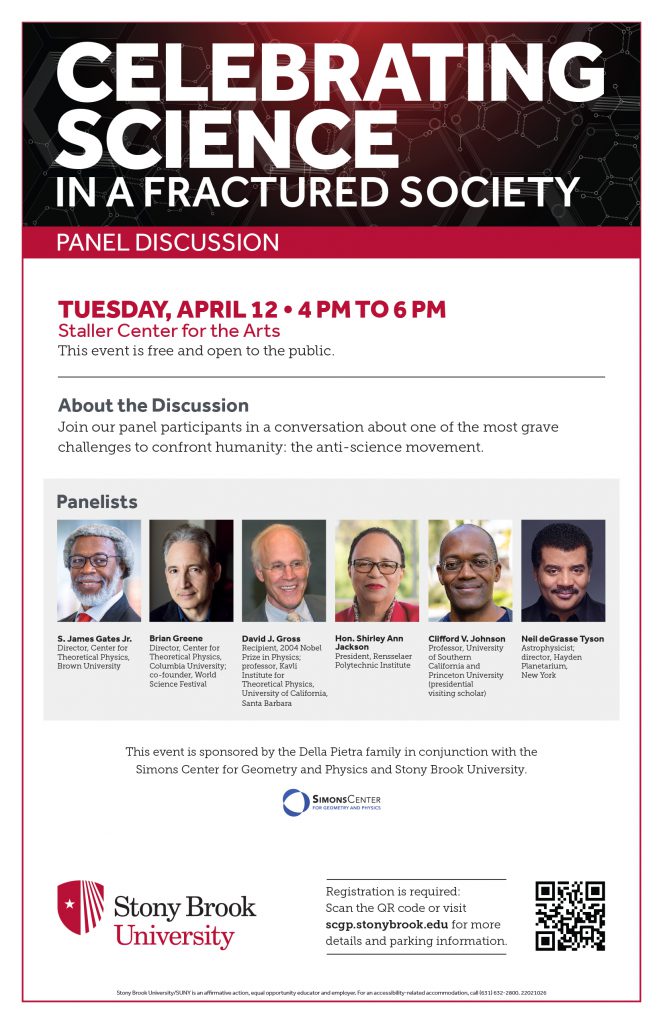 ---
ABOUT THE PANELISTS
---
Sponsored by the Della Pietra Family and in conjunction with the Simons Center for Geometry and Physics and Stony Brook University. Organized by Luis Álvarez-Gaumé, Director of the Simons Center, Martin Rocek, Yang Institute for Theoretical Physics, and Ibrahima Bah, Johns Hopkins University.