RESOUND
Thursday, September 8, – Friday, October 28, 2016
Simons Center Gallery
Curated by Lorraine Walsh
with Margaret Schedel and Joo Yun Lee
RESOUND
Featuring the work of Memo Akten, Sougwen Chung, Seth Cluett, Yoon Chung Han, Carsten Nicolai, Jess Rowland
Opening Reception: Wednesday, September 14, 2016
5:00 pm: Wine and Cheese Reception, Simons Center Gallery and Lobby
5:45 pm: Guest Speaker: Dr. David H. Shoemaker, Realizing Einstein's Dream: Observing the
Signature of Dynamic Space-time, SCGP 103
The Simons Center Gallery is pleased to present RESOUND, an exhibition artistically inspired by the recent detection of gravitational waves in space.
The Laser Interferometer Gravitational-Wave Observatory (LIGO) group, which is operated by researchers from Caltech and MIT with partner institutions worldwide, announced last February that they detected a gravitational wave vibration emanating from the collision and merger of two black holes a billion light years away. Translating the vibration into a sound, the scientists recorded a short chirp – a billion-year-old echo of the collision of those two black holes. This astonishing detection of gravitational waves confirms Albert Einstein's prediction of ripples in the fabric of space-time in his 1915 general theory of relativity.
RESOUND features the work of six internationally acclaimed artists: Memo Akten, Sougwen Chung, Seth Cluett, Yoon Chung Han, Carsten Nicolai and Jess Rowland.
Memo Akten (born 1975, Istanbul, Turkey) is an artist from Istanbul, based in London, UK. Akten's work explores the collisions between nature, science, technology, culture, ethics, ritual, tradition and religion. Combining critical and conceptual approaches with investigations into form, movement and sound, he creates data dramatizations of natural and anthropogenic processes. Alongside his practice, Akten is currently working towards a PhD at Goldsmiths University of London in artificial intelligence and artistic, expressive human-machine interaction. He received the Prix Ars Electronic Golden Nica in 2013 for his collaboration with Quayola "Forms." Past exhibitions and performances include the Victoria & Albert Museum, London; Royal Opera House, London; Garage Center for Contemporary Culture, Moscow; La Gaîté lyrique, Paris; Holon Design Museum, Israel and the EYE Film Institute, Amsterdam. Akten's work has also been featured in books, academic papers, magazines and websites such as Wallpaper*, Dazed, Eye magazine, Guardian, BBC, Financial Times, Wired and Dezeen.
Sougwen Chung (born 1985, Toronto, Canada) explores the mark made-by-hand and the mark made-by-machine as an approach to understanding the interaction between humans and computers. Chung's organic, maximalist work is inspired by intuitive and algorithmic processes and her speculative artistic practice spans installation, sculpture, still image, drawing, and performance. In 2016, Chung was presented with the Excellence Award by Japan Media Arts for her project Drawing Operations, a collaborative performance with a robotic arm. Chung was an artist and research affiliate at MIT's Media Lab in Cambridge and an inaugural member of The New Museum's NEW INC in New York. Chung's work has been exhibited internationally including at the Museum of Contemporary Art, Geneva; National Art Center, Tokyo; Tribeca Film Festival, New York; The Hospital Club, London; Mutek Festival, Montreal & Mexico City and Sonar Festival, Barcelona. Her work has also been featured in The New Yorker, Art F City, Dazed and Confused, The Creators Project, among many others.
Seth Cluett (born 1976, Troy, New York, USA) is an artist whose work includes installation, concert music, performance, photography, and critical writing. Exploring the territory between the senses, Cluett's works are marked by a detailed attention to perception and to the role of sound in the creation of a sense of place, the workings of memory, and the experience of time. Cluett is a recipient of awards from Meet the Composer, the Andrew W. Mellon Foundation, and the Foundation for Contemporary Arts Emergency Grant and his work has been presented internationally at venues such as Palais de Tokyo, Main d'Oeuvres, and GRM, Paris, Paris; Hebbel am Ufer Theater and Staalplaat, Berlin and the Whitney Museum, MoMA PS1, STEIM, Apexart, The Kitchen, Issue Project Room and Eyebeam, New York. He has published articles for Tacet Revue, Leonardo Music Journal, and the Journal of the Acoustical Society of America. Cluett is a joint-appointed Assistant Professor of Music & Technology and Visual Arts & Technology at the Stevens Institute of Technology in Hoboken, NJ.
Yoon Chung Han (born 1983, Seoul, Korea) is an interactive media artist and award-winning interaction designer. Her interest in interactive art/design has explored new multimodal experience using the human body data and audiovisual components. Investigated the new ways of visualizing sound and sonifying visuals, Han's work encompasses many different forms such as interaction design, data visualization/sonification, interactive art installations and sound visualizations. Han has been internationally presented at venues such as ZKM, Karlsruhe, Germany; SIGGRAPH 2013 Art gallery, Anaheim, CA; Japan Media Arts Festival, Tokyo; London Science Museum, London; Media City Seoul, Seoul and ISEA 2014, Dubai, and has presented papers and published articles for ACM Multimedia, IEEE VisWeek, and Leonardo Journal. She was a visiting researcher/Ph.D. Student at SENSEable City Lab at MIT, Cambridge, MA and is currently an assistant professor in the Department of Visual Arts at California State University, Fullerton and a Ph.D. candidate in Media Arts and Technology at the University of California, Santa Barbara.
Carsten Nicolai (born 1965, Germany) is a German artist and musician based in Berlin and Chemnitz. Nicolai is from an artist generation that works intensively in the transitional area between music, art and science. In his work Nicolai seeks to overcome the separation of the sensory perceptions of man by making scientific phenomena like sound and light frequencies perceivable for both eyes and ears. Influenced by scientific reference systems, Nicolai often engages mathematical patterns such as grids and codes, as well as error, random and self-organizing structures. Nicolai's installations have a highly intriguing minimalist aesthetic by virtue of its elegance and consistency. After his participation in important international exhibitions like documenta X in 2012 and the 49th and 50th Venice Biennale, Nicolai's works were shown worldwide in extensive solo and group exhibitions. Nicolai's artistic œuvre echoes in his work as a musician and for his musical outputs he uses the pseudonym Alva Noto. In this role, Nicolai and collaborator Ryuichi Sakamoto composed the score for the 2015 award-winning film "The Revenant."
Jess Rowland (born 1971, Natick, Massachusetts, USA) is a sound artist, musician and composer whose work explores the relationship between technologies, popular culture and other absurdities, investigating the weirdness of reality and how we all deal with it. Recent installations and performances include the 2015 NY Electronic Arts Festival, Berkeley Art Museum, and Luggage Store Gallery. Rowland received her MFA from the University of California Berkeley, under the mentorship of Adrian Freed, Director of Audio Research, and continually aims to reconcile the world of art and the world of science. Affiliated with lab of David Poeppel, Neuroscience Director of the Max Planck Institute for Empirical Aesthetics, studying music and speech perception, Rowland has published her research in perceptual neurosciences and in music technologies for journals including Leonardo Journal of Music. Rowland is currently working on the release of a unique video collection presented at Harvestworks and Spectrum in New York City; The Banff Center in Canada, and elsewhere, exploring the misappropriation of corporate computerized technologies.
Guest speaker: Dr. David H. Shoemaker is the Director of the MIT LIGO Scientific Collaboration, and the Leader of the Advanced LIGO Project to make the detectors used in the discovery of gravitational waves. Shoemaker started out as a lab technician at Massachusetts Institute of Technology (MIT) in the mid-70's, but after joining Rai Weiss' lab he built and tested the instrument which made the first definitive measurement of the Cosmic Microwave Background spectrum in the '70s. Shoemaker then turned to the field of gravitational-wave detection, helping to advance the measurement technology. After working in Garching, Germany at the Max Planck Institut für Quantenoptik, and in Orsay, France at the Université de Paris, he returned to MIT in Cambridge, Massachusetts and worked on the Initial LIGO detectors before taking on the effort to realize the second generation of detectors. Shoemaker is now working to enable 3rd-generation approaches to yet better sensitivity, and supporting efforts to put gravitational-wave detectors in space.
Special thanks to Ibid Gallery, Los Angeles; Galerie EIGEN+ART, Berlin; Juliette Bibasse, and the Center for Excellence in Wireless and Information Technology (CEWIT).
Visitor Information
Hours: Simons Center Gallery hours: Monday- Friday 10:00 am – 5:00 pm and by appointment;
Closed Saturday, Sunday, and Holidays.

NASA's Goddard Space Flight Center/P. Cowperthwaite, Univ. of Maryland, 1:33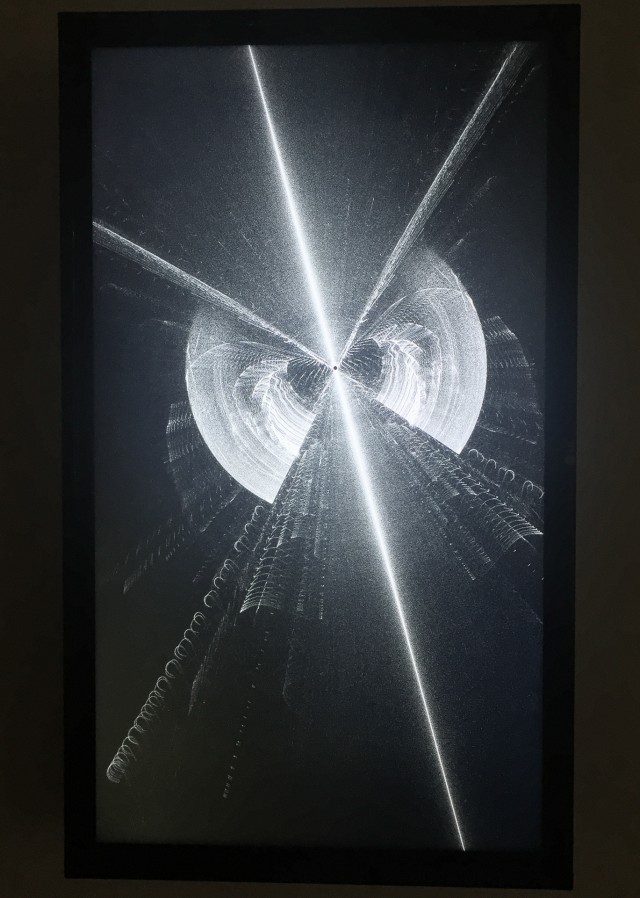 Memo Akten, Equilibrium, 2014
Interactive touch-screen video installation
1ch HD touch-screen LCD, custom software
Duration: N/A, Dimensions: variable
Courtesy the artist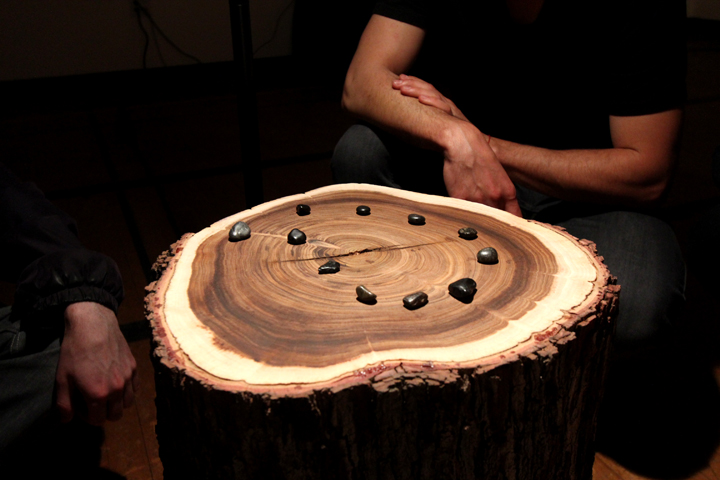 Yoon Chung Han, Across the Universe, 2012
Interactive Sound Installation
20 x 20 x 48 inches (51 x 51 x 122 cm)
Courtesy the artist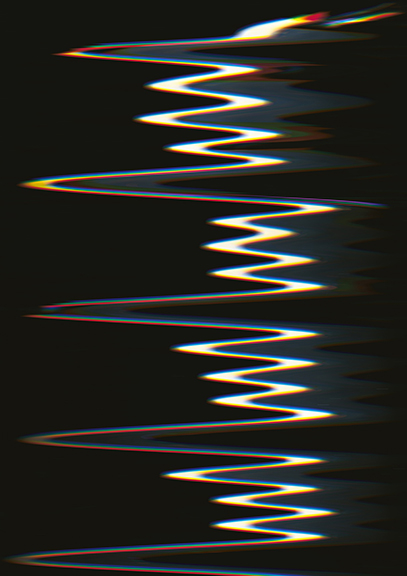 Carsten Nicolai, Chroma wellenform (Scan 46), 2016
photographic print on fine art 188gsm inkjet paper
23 3/8 x 16 1/2 inches (59.4 x 42 cm), edition 2/5
Courtesy the artist and Ibid Gallery, Los Angeles