Organized by Chris Herzog, Leonardo Rastelli, Martin Rocek, and George Sterman.
Dates: January 6-10, 2014
Attendee List Download Talk SchedulePhoto Gallery for WorkshopView Videos
Supergravity was discovered in 1976 and continues to be central for M-theory, string theory phenomenology, quantum properties of black holes, and the AdS/CFT correspondence. Applications have ranged from extensions of the Standard Model to supersymmetric black hole solutions and strongly coupled systems, with myriad implications for High Energy, Condensed Matter and Nuclear theory and experiment. The term supergravity has entered the discourse of theoretical physics, and each year hundreds of papers appear with "supergravity" in their titles and abstracts. The workshop, Aspects of Supergravity will be devoted to these exciting developments, as well as to some of their historical background.
The theory of supergravity was co-discovered at Stony Brook by Peter van Nieuwenhuizen, who turned 75 on October 26, 2013, and the workshop will celebrate this milestone birthday and Peter's distinguished and ongoing career in theoretical physics. Peter has also made major contributions to Kaluza-Klein theory, which is central to many applications of supergravity, developed powerful techniques to study solitons in various dimensions, has been a major contributor to BRST methods, and was one of the first to investigate the quantum behavior of gravity and supergravity theories. All these topics are inter-related in deep and unexpected ways, and contribute to our understanding of fundamental aspects of physical law.
*All workshop talks and discussion periods will be held in the Simons Center Lecture Hall (Room 102)
*More information on the Della Pietra lecture on Thursday, January 9th, can be seen here. This talk will be held in Simons Center Auditorium (Room 103)
Aspects of Supergravity Workshop Schedule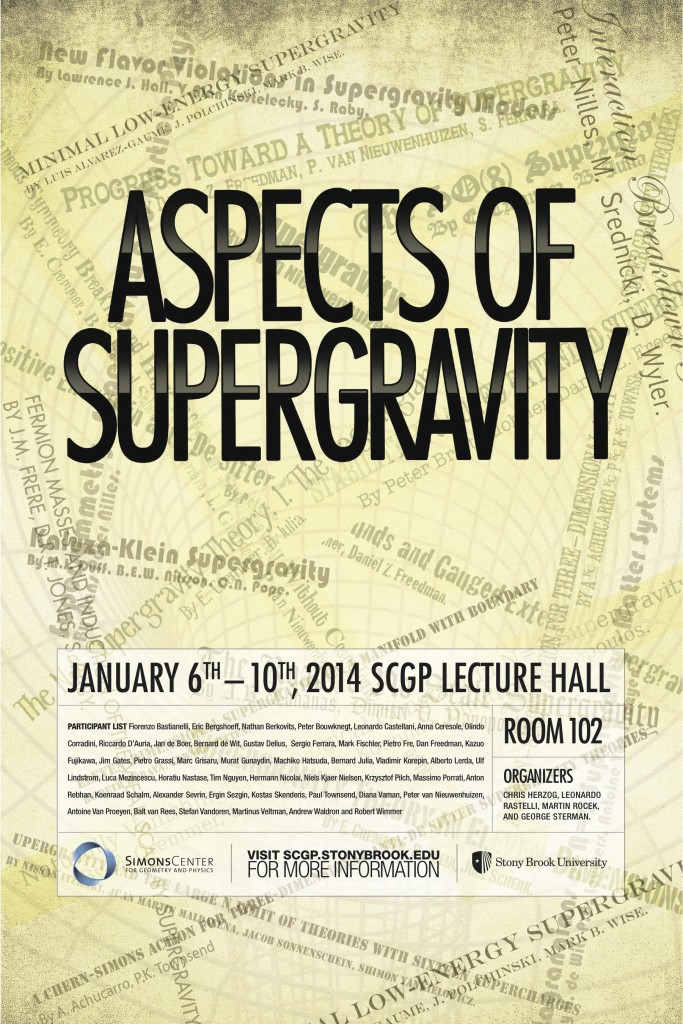 Photos
Supergravity @25
YITP faculty 1975
Dinner party 2014