Summer 2022 Tuesday Concerts
The Art and Outreach Program at the Simons Center for Geometry and Physics at Stony Brook University is pleased to present a new music series free and open to the public:
Tuesday, July 26, 2022
The TransAtlantic Piano Duo: Pablo Lavandera and Evelyn Ulex
4:30 – 5:30 pm: Concert in the Della Pietra Family Auditorium
5:30 – 6:00 pm: Reception in the Simons Center Lobby
DOWNLOAD PROGRAM
Tuesday, August 2, 2022
Leon Livshin, Inessa Gordeiko, Alexander Bedenko
4:30 – 5:30 pm: Concert in the Della Pietra Family Auditorium
5:30 – 6:00 pm: Reception in the Simons Center Lobby
DOWNLOAD PERFORMANCE INFORMATION
Tuesday, August 9, 2022
Chatter Jazz! Tom Manuel, cornet; Ray Anderson, trombone; Tommy Campbell, drums; Dean Johnson, bass; Steve Salerno, guitar
4:30 – 5:30 pm: Concert in the Della Pietra Family Auditorium
5:30 – 6:00 pm: Reception in the Simons Center Lobby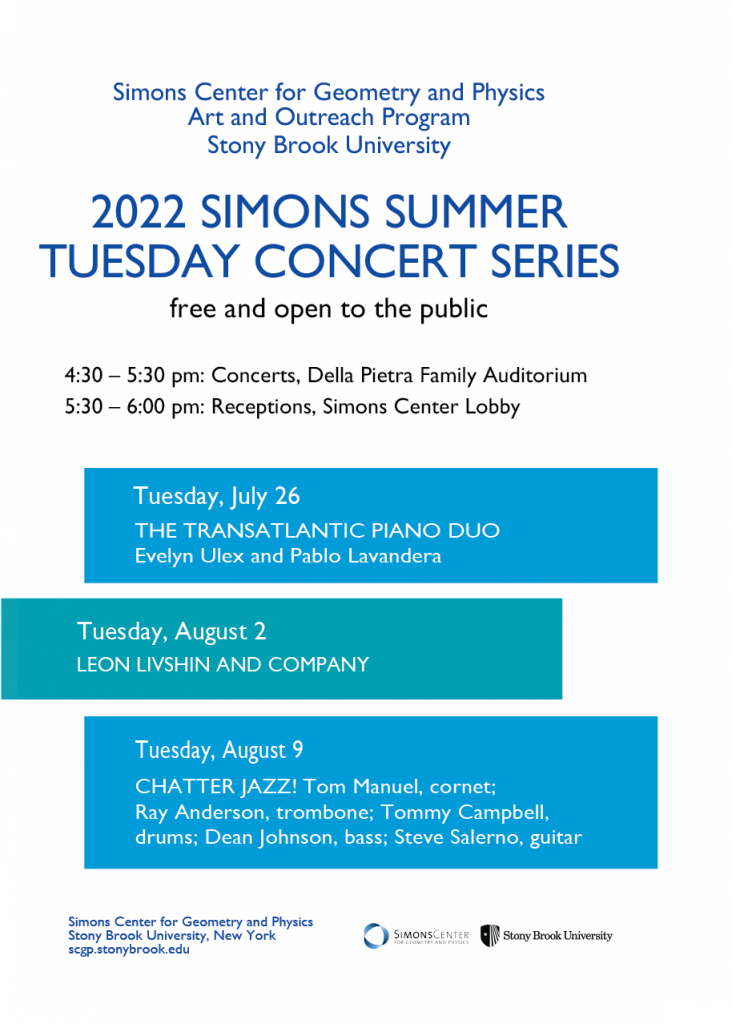 ---
MUSICIAN BIOS
The TransAtlantic Piano Duo, with German-born Steinway Artist Evelyn Ulex and Argentinian master Pablo Lavandera, from the Piano Faculty at Stony Brook University, have been performing in Europe and the Americas in venues such as Carnegie Hall, Le Poisson Rouge in New York, Berlin's Konzerthaus and Philharmonie, and the Colón Theater in Buenos Aires. They will perform a program incorporating their diverse musical interests that will include works by Scott Joplin, May Frances Aufderheide, Samuel Barber, Claude Debussy, Astor Piazzolla and Sergei Rachmaninoff.
---
Leon Livshin is a prolific pianist who has won top prizes at prestigious piano competitions in Italy, Germany, and the former USSR. He has performed extensively throughout Europe and the US, and also acts as creative consultant to a variety of concert series and festivals in the NYC area. As a soloist and chamber music player, Mr. Livshin has performed at Carnegie Weill Hall, Alice Tully Hall, the Kennedy Center, Merkin Hall, Steinway Hall, the Cologne Philharmonic, the Berlin Hochschule für Musik, Vienna Konzerthaus, the Zurich Tonhalle, and Moscow's White Hall. Recent collaborations include the Borodin Quartet, the Borromeo Quartet, Philip Setzer, Russian New Quartet, Dmitri Berlinsky, and Colin Carr.
---
Chatter Jazz! Director of Jazz Studies Ray Anderson, trombone, and Jazz Artist in Residence Tom Manuel, cornet, present Chatter Jazz! A musical conversation based on original compositions by both artists this performance also welcomes to the stage drummer Tommy Campbell, bassist Dean Johnson, and guitarist Steve Salerno. This all-star lineup of artists boast some notable accomplishments; Tommy Campbell was Dizzy Gillespie's drummer for years and now swings hard in the Charles Mingus Big Band. Trombonist Ray Anderson played in Mingus' band in the 70s upon his NY arrival from Chicago not to mention countless collaborations across the globe with the most innovative artists in Jazz. His distinctive sound and creative writing make him one of the most outstanding voices in modern Jazz. Dean Johnson, bass, honed his craft on the road with the great Gerry Mulligan and is one of the top call bassists on the NY scene today. Tom Manuel, cornet continues to advocate for the art form through his efforts as educator, performer and historian, especially via The Jazz Loft (thejazzloft.org), one of only a handful of Jazz Museums in the United States. Manuel's Jazz projects bring to light important Jazz works seldom performed and his efforts have brought the Jazz Loft's mission to Haiti, West Africa, Cuba and throughout New England. Guitarist Steve Salerno is an incomparable accompanist and has shared the stage with Jerry Vale, Peggy Lee and many others. Collectively this assemblage of musicians always wow and this performance promises to be no exception.